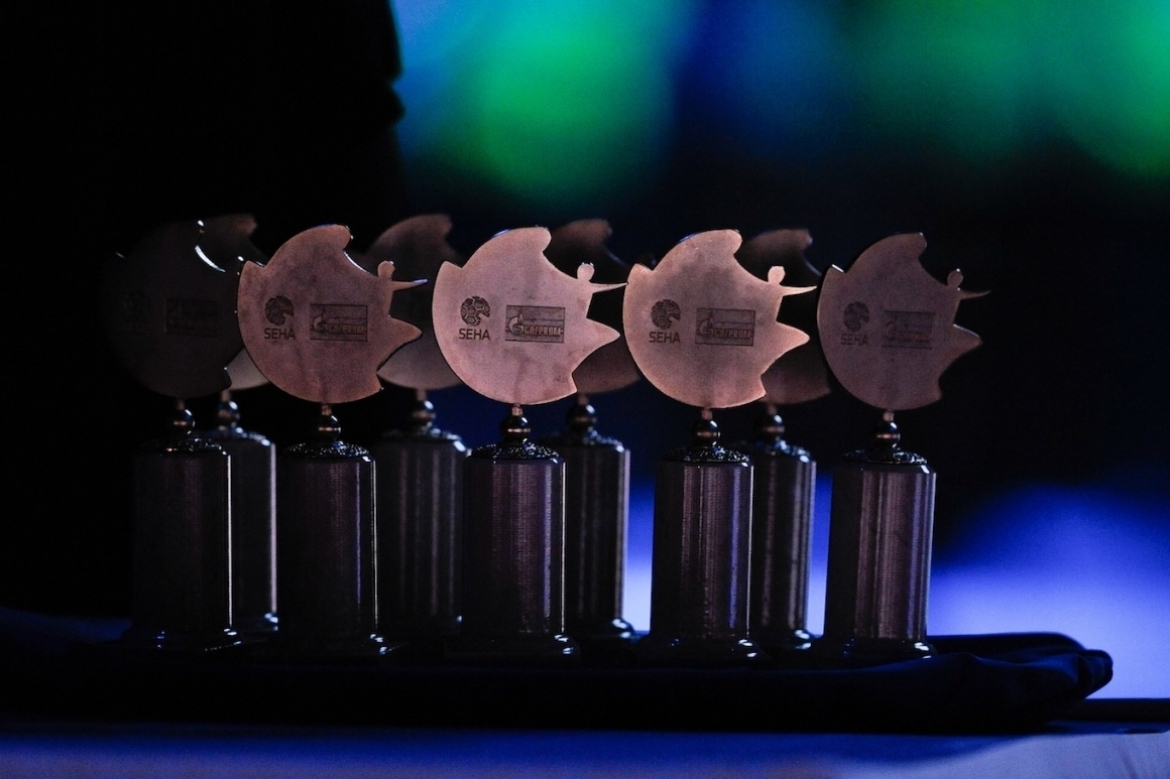 As every month in the SEHA TV Magazine, we bring you the best team of the month, alongside the best coach. Of course, the choice is never easy, especially because of a lots of amazing performances. From the goalkeeper to the backline and the pivot, meet the Best 7 and the best coach!
Goalkeeper: Tudor Stanescu (Steaua Bucuresti)
The Romanian goalkeeper had a fantastic match against Metalurg, the best he had this season. We have already seen him produce same amazing saves the entire season. But, Stanescu was phenomenal in Skopje, when he stopped 19 shots. He even scored a goal in that match. Stanescu is averaging around 7 saves per match this season!
Left winger: Vedran Delic (Izvidjac)
Izvidjac from Ljubuski are still searching for their first win of the season, but it certainly isn't because of Vedran Delic. He has been their best player and top scorer, sitting near the top of the leading scorers' list all season. Delic had 4 versus Vojvodina and 6 against Vardar. This means he is the only player, alongside Zlatko Horvat, to score 4 or more goals in every match of the season. Impressive!
Left back: Halil Jaganjac (Nexe)
Jaganjac did not need a lot of time to adjust to the new system. His debut came against Vardar in Skopje, and he scored 3 goals in that one. But, Jaganjac was spectacular in Brest against Meshkov. He led his new team to their first ever victory versus Meshkov with 7 goals and 5 assists. Hard to believe he is only 20 years old.
Centre back: Janja Vojvodic (Vardar)
Vardar's team went through many rotations against Nexe, but Vojvodic used his minutes well in that match. He continued his good form, as he was Vardar's key player in a win against the team from Ljubusku, scoring 6 goals. He played well against Nexe, especially as the playmaker. Vojvodic is becoming a player Vardar can rely on.
Right back: Bruno Butorac (Tatran Presov)
October's MVP continued his fantastic form. In November, Butorac led Tatran Presov to two double-digit wins. First, he scored 7 goals in Nis against Zeleznicar. Then, Butorac scored 9 goals against his former club PPD Zagreb. Another terrific season is behind him, as Tatran continue their battle for Final 4.
Right winger: Tomas Cip (Tatran Presov)
Tomas Cip has been a very reliable solution, alongside Bruno Butorac on Tatran's right side in attack. The Czech winger played an important role in both Tatran's wins in November, scoring 4 versus Zeleznicar and 3 against PPD Zagreb. He currently has 36 goals on the season, and leads the League in fast break goals.
Pivot: Martin Johannson (Steaua Bucuresti)
The Estonian pivot has been one of the most reliable Steaua players this season. Johannson also scored the winning goal for the Romanian team against Metalurg. This was their first ever away win in the SEHA – Gazprom League. Johannson has been crucial this season, and the match against Metalurg when he scored five was a good sign of that.
Coach: Slavko Goluza (Tatran Presov)
Tatran Presov achieved two great wins this month, largely thanks to Slavko Goluza finding a great balance in his team. Tatran are currently at a Final 4 spot, with 6 wins in 9 rounds. November brought them two more victories, +11 against Zeleznicar and +10 versus PPD Zagreb.