NEXE grabbed one point two seconds before the end
27.10.2013.

•

SEHA GAZPROM LEAGUE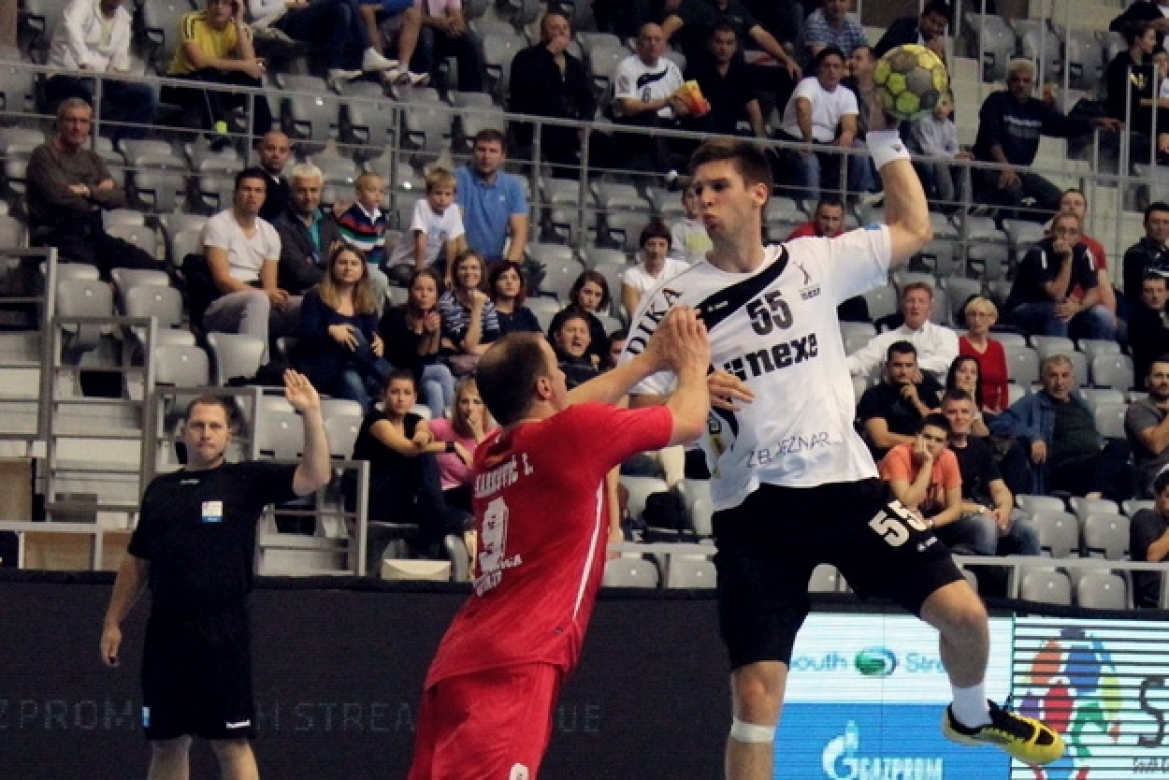 NEXE and Lovćen drew in Osijek 26:26, but happier with that result can be hosts, since they have grabbed one point in the final seconds, after they were trailing for the most of the game. Lovćen has taken the control of the game very early, in 14. minute they had three goals advantage (6:3), and soon after it was already "plus 5" for them (10:5). With very good defence visitors have forced NEXE's players to make a lot of tehnical mistakes while they were on the other side playing calmly in attack with many solutions for home team's defence. After they had 6 goals margine at the break (15:9), they maintained the control of the game in the major part of the 2nd half and the biggest lead they had on few occasions was 7 goals (21:14). But, in the final 10 minutes NEXE started to get back. Vujić was leading the attack with 9 goals and with his goal NEXE got back to -3 (23:20) in 52. mnute. Lovćen managed to keep that advantage until the final 90 seconds. With goals from Jurjević and Vujić Lovćen had the lead cut to only 26:25, and after they didn't score in their final attack, there was only 7 seconds left for NEXE. With few expulsions in both teams, that was enough for Jurjević to score 2 seconds before the end for the final result.
Igor Marković was the best scorer for Lovćen with 5 goals.
- Congratutations to NEXE and the fans. It was a dramatic game, like each one we've played against each other. We didn't deserve to loose, since this draw feels like a loss to us, after we had 7 goals advantage. We didn't gain a point, we lost two points and I'm sorry for the team and our sports director, who stepped in as coach, that we didn't win today. We fought, gave our maximum and showed that we have the quality necessary to play in SEHA Gazprom South Stream League.
Tibor Jurjević also scored 5 goals for NEXE and it was his last one, only 2 seconds before the end, that has given hosts one point.
- It wasn't the plan that I shoot the last ball, but they've blocked our wings, so I had to do it. Now it was my time to make decisive shot, next time it will be someone else. We've opened the match badly and I don't know what's the reason, fatigue or something else. At the end we showed the character, we prooved that we're good, despite the bad start.
Željko Petričević, Lovćen's coach.
- Our games are always with lot of fighting, dinamics and quality and I think the audiance could have enjoyed. I'm not satisfied with the final result, there were some strange decisions at the end. But, I want to congratulate to my players, we gave our maximum at this time. We wanted the victory here, we saw how NEXE played against Partizan and we took advantage of their fatigue, at least in first 40 minutes of the game.
Zdenko Kordi, coach of NEXE:
- We had very hard schedule in the past 2 weeks, with 5 heavy games and some long trips. That caused us problems with our roster, since Kružić and Mrđenović couldn't have played due to injuries, while Eter hurt his fist at the final training before the game. We knew that Lovćen is strong team, that they play excellent handball and their position at the table doesn't show their real quality. I congratulate Lovćen for the game they played here, but at the end we showed the character, since we managed to come back from 7 goals deficit. After all, I have to be satisfied with the draw and the point we took.