7 METERS: Miroslav Kocic (Vojvodina)
03.11.2013.

•

SEHA GAZPROM LEAGUE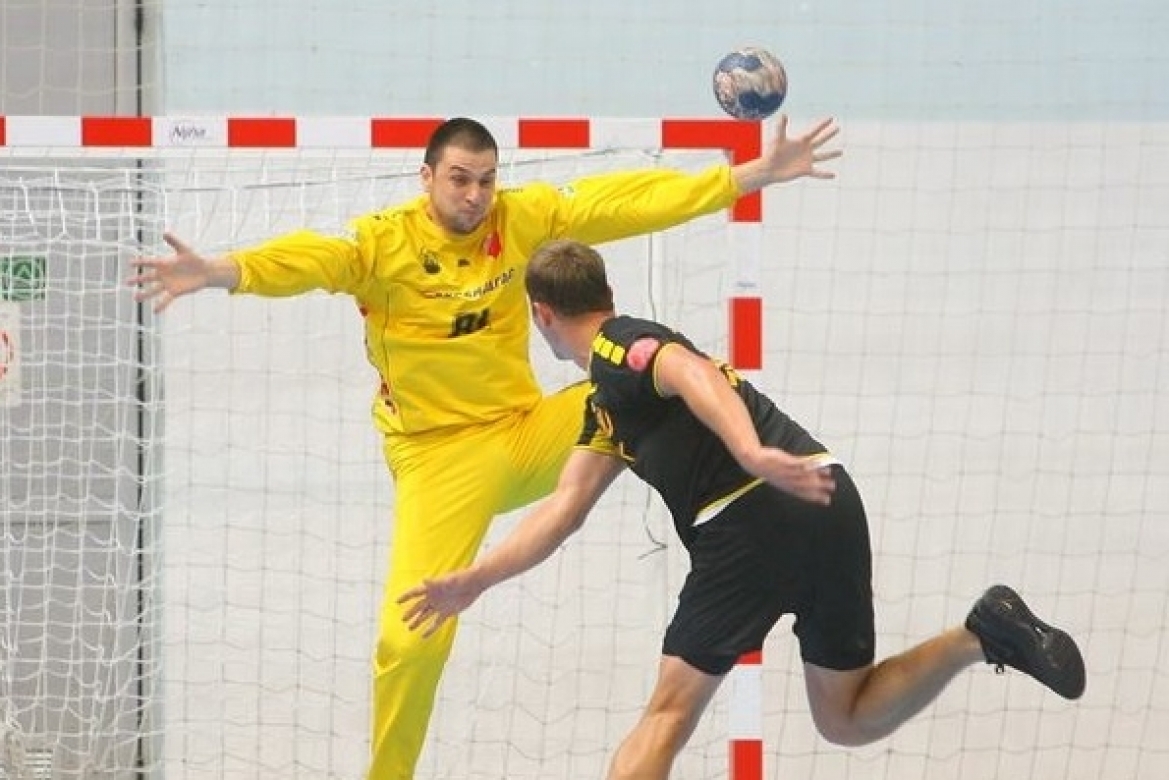 Vojvodina's goalkeeper Miroslav Kocic has because of his good performances in SEHA GSS league earned Vladan Matic's invitation to Serbian national team, which is another great success after being SEHA's best goalkeeper in September
1M: How does it feel, you will make your debut for the national team in 32 year ?
I was not expecting the call, I am pleasantly surprised, honored to be part of a team of my country. I had a good start to the season and I'm glad that somebody saw it. Matches against Partizan and NEXE have probably given me the title of the best goolkeeper of the month for the Regional competition.
2M: And, who is in fact, the best goalkeeper in September ?
I was playing in Leskovac, until 2000. After that I have sprent seven years in Željezničar from Niš and then another year in Planinka, Italian Teramo, then got back to Niš again, played Serbian Cup final with Zaječar and now I'm here. I've become a player on Serbian handball courts.
3M: A lot of good players playing in the league, especially in teams, participants of the Champions League. Whose shots was it most difficult to defend?
Zagreb has great backs, Mandalinic was fantastic against Veszprem, scores from ten to eleven meter distance. There is also a great right-back Luka Stepancic. Tatran`s Kristopans is, because of the height, awkward shooter, Antl is also great, Zarko Pejovic ...
4M: Vojvodina for the first time participates in the Gazprom South Stream league. What's your opinion on league'e quality and orhanization level?
It's a great difference in comparison to the Serbian Super League. It actually looks like a mini Champions League, only at the regional level, certainly one of the five best organized in Europe. With Gazprom as a sponsor league has received much. We're honored to be part of this whole story.
5M: Gazprom wishes the next Final 4 in Serbia. What do you think, who will be privileged to organize it?
For now, we have the advantage, we won in Belgrade.
6M: In Novi Sad not many people are coming to watch you play, not even in Champion League's qualifications. Only motive was Croatian champion Zagreb. What do you see as a reason for that?
I do not know the answer, maybe if we win some big matches they will come... In the championship deciding match against Partizan last spring it was full.
7M: Vojvodina is currently sixth in the the SEHA league with three wins and four defeats. Where do you see your team in the end of the competition?
Our aim is to be placed in top six teams. To be honest we're equal with teams like Partizan, Borac or Lovćen and we managed to win the match in Osijek against NEXE. Meskov, Metalurg, Vardar, Zagreb are better teams than us. It is important to win matches against teams on our level and of course to do our best against the strongest and see where it brings us.