Meet Meshkov Brest: 4th time looking for the finals against Veszprem!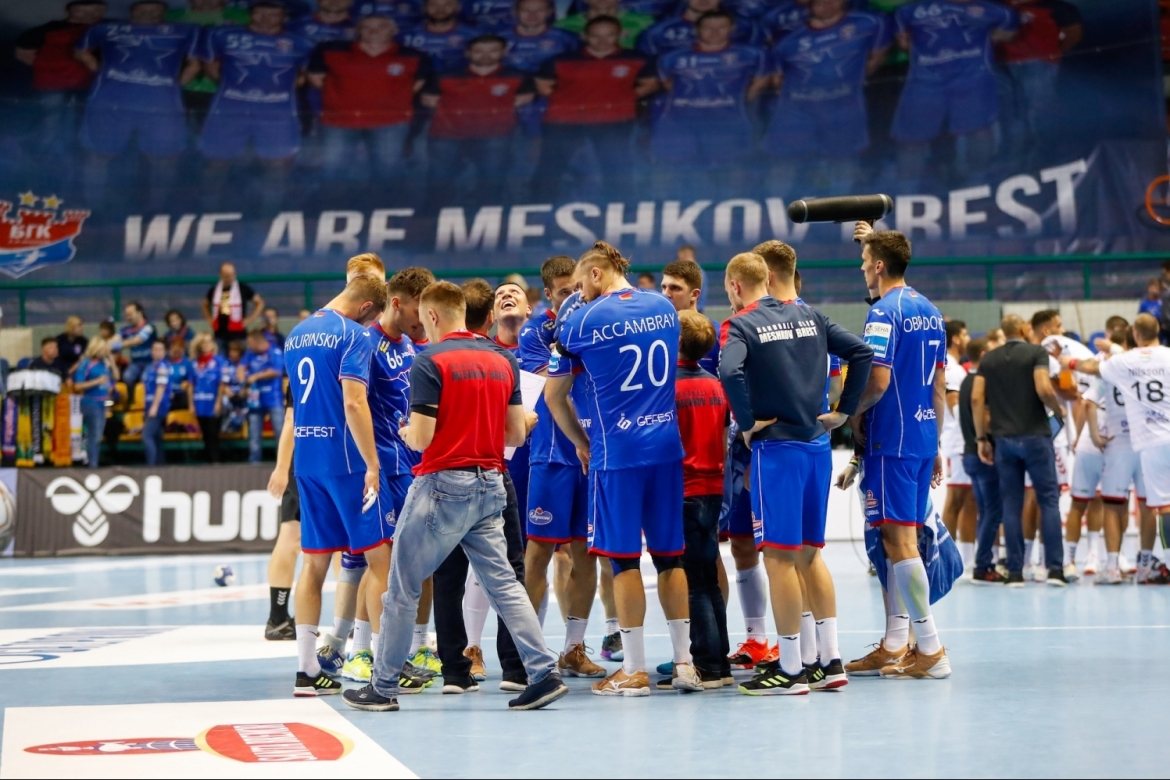 Season 2013 was their first SEHA season, but it feels like Meshkov Brest have been a part of the League from the very beginning. Here are some interesting facts:
Newcomers 2020: Dmitrii Santalov (Chekhovskie Medvedi), Pawel Paczkowski (Telekom Veszprém), Stas Skube (HC Vardar 1961), Vladimir Vranjes (Grundfos Tatabánya KC)
Left the club 2020: Nemanja Obradovic (PPD Zagreb), William Accambray (Pays d'Aix Université Club Handball), Artsiom Kulak (Chekhovskie Medvedi), Darko Djukic (Sporting CP), Branko Kankaras (Metalurg Skopje), Daniel Andrejew
Coach: Raul Alonso (since May 2019)
SEHA season 2019/2020 statistics:
Group Phase: 6 wins – 0 draws – 4 defeats
3rd place in Group B
Play off versus Beijing Sport University:
WIN 41:23
WIN 46:26
Quarter-finals against Motor Zaporozhye:
WIN 30:28 (home)
WIN 33:28 (away)
475 goals scored – 33.9 goals per match
384 goals conceded – 27.4 goals per match
Goal difference: +91
Biggest win: 46:26 versus Beijing Sport University
Biggest defeat: 23:32 versus Telekom Veszprem
Total score: 10:4

Matches against Final 4 participants in the 2019/20 season:
HC Vardar 1961: -
Telekom Veszprem: 27:28 (home), 23:32 (away)
PPD Zagreb: 33:29 (home), 24:30 (away)
Longest winning run: 5 matches
Longest unbeaten run: 5 matches
Top scorers: Mikita Vailupau (103/41), Maxim Baranau (39/13), Alexander Skhurinskiy (36/0)
TOP goalkeeper: Ivan Matskevich (114 saves/31.0% saves percentage)
MOST assists: Artsiom Kulak (19 assists)
Nations represented in the squad: 8 (BLR, CRO, RUS, SRB, SLO, BIH, MNE, POL)

General statistics:
Participations in SEHA - Gazprom League (including 20119/20): 8
Participations in SEHA - Gazprom League Final 4 (including 2020): 8
Best result SEHA - Gazprom League: finalists 2014, 2015, bronze in 2017, 2019
Participations in EHF Champions League (including 2020/21): 12
Best results in EHF Champions League: Last 16 2016, 2017, 2018, 2019
Belarusian champions: 12 times
Belarusian cup winners: 11 times
All the luck to the Belarusian champs!