2021 WCh Egypt – Day 7: Hungary and Croatia finish on top of their groups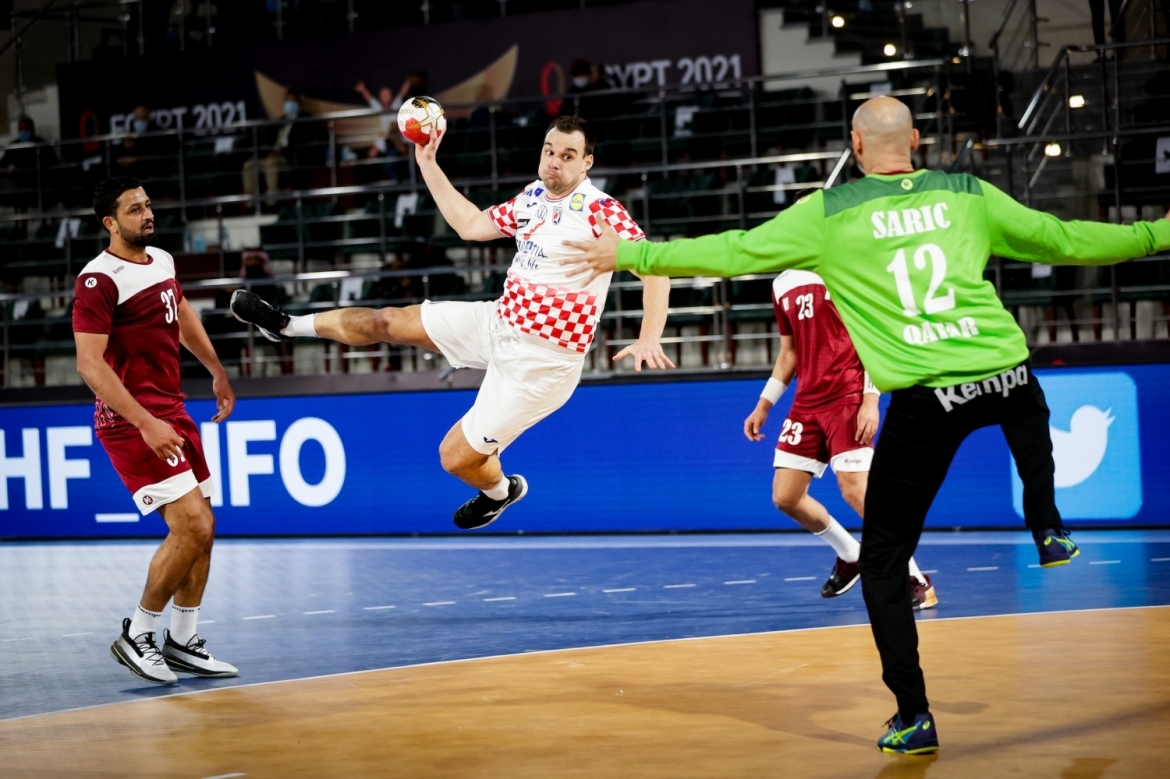 Final day of the group stage on 2021 WCh in Qatar brought a lot of excitement, narrow endings and splendid performances. We've also seen two SEHA national team wins in key matches of the first part of the competition so without further ado – let's get started with our daily recap!
In group A match between Uruguay and Cape Verde was cancelled with Uruguay being awarded 10:0 which helped them secure main round ticket. In the second match of the day Germany and Hungary were deciding winner of the group and we're happy and proud to say that Hungary managed to claim what was their third WCh win securing the top spot. In what was an extremely narrow and tough match, Telekom Veszprem's Mate Lekai sealed the deal putting his team 29:28 in front with less than five seconds left to play which proved to be crucial. Hungarians will that way start the main round with 4 points, Germany will have 2 and Uruguay 0.
In group B Spain managed to reach a win against underdogs Tunisia. In the end it was 36:30. Maqueda netted two for Spain while Jaballah scored five for Tunisia. Angel Fernandez led his team towards another win offensively with 10 goals. Later on Brazil suffered a tough defeat against Poland 23:33. Walczak and Moraes netted two each for their respective countries in this one. Sicko and Moryto scored six each for the winning side. Spain will that way carry 3 points to the main round, Poland 2 and Brazil 1 due to the opening day draw against Spain. Tunisia will play in the President's Cup.
Teams that have managed to get through from groups A and B will in the Main Round be placed in group I.
In group C we've seen Japan come out on top versus Angola with 30:29. In the key match in deciding who proceeds to the main round from the top of the group Croatia managed to come out on top versus Qatar. In the end it was 26:24. Telekom Veszprem's Manuel Strlek led the way for his team offensively with six goals helping his team finish the group stage on a high note after a first-round stunner against underdogs Japan. Croatia will carry 3 points into the main round, Qatar 2 and Japan 1. Angola will play in the President's Cup.
In group D Bahrain celebrated a 34:27 win against DR Congo in a direct clash for the final main round ticket. Later on Denmark delivered yet another solid performance outplaying Argentina with 31:20. Mikel Hansen led them with seven goals. Danes are that way taking 4 points into the main round, Argentina 2 and Bahrain 0. DR Congo will play in the President's Cup.
Teams that have managed to get through from groups C and D will in the Main Round be placed in group II.
Group stage is done and there is no more room for mistakes and definitely no time to relax. It's time for the real deal with battle for quarter-final spots starting tomorrow. Main Round group IV will, of course, have our special attention as we'll already tomorrow see two of our SEHA national teams out there in the Egyptian capital. Macedonians will from 15.30 CET play their first main round match against Slovenia and later on (20.30 CET) we'll see Belarus take on Sweden. Good luck!
SCORES & GOALS
DAY 7 (19.1.)
Group A
Uruguay – Cape Verde 10:0
Germany – HUNGARY 28:29 (Lekai 4)
Group B
Spain – Tunisia 36:30 (Maqueda 2/Jaballah 5)
Brazil – Poland 23:33 (Moraes 2/Walczak 2)
Group C
Japan – Angola 30:29
CROATIA – Qatar 26:24 (Strlek 6, Cupic 2)
Group D
Bahrain – DR Congo 34:27
Denmark – Argentina 31:20
TOMORROW IN EGYPT
DAY 8 (20.1.)
MR Group III
Switzerland – Iceland (15.30 CET)
France – Algeria (18.00 CET)
Portugal – Norway (20.30 CET)
MR Group IV
MACEDONIA – Slovenia (15.30 CET)
Russia – Egypt (18.00 CET)
Sweden – BELARUS (20.30 CET)