2021 WCh Egypt – Day 8: Yurynok and Vailupau combine for 12 as Belarus secures a point versus Sweden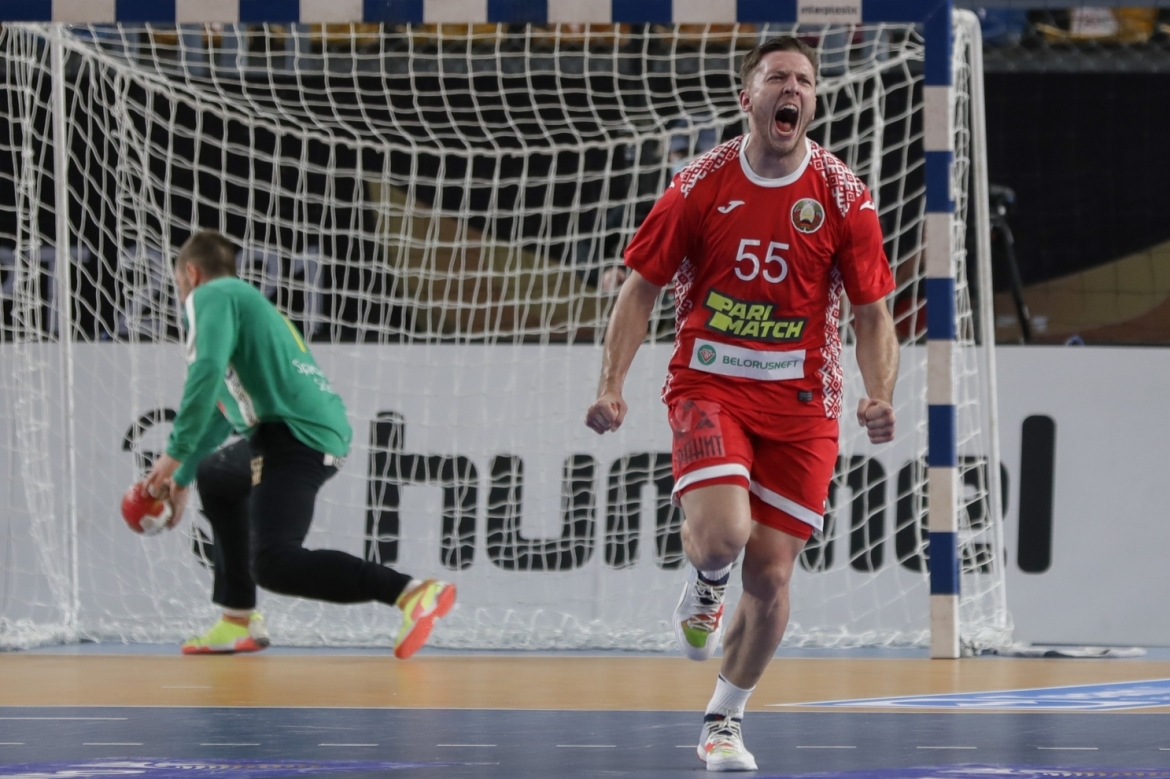 Photocredit: https://www.handballegypt2021.com/en/photos/
Main round of the 2021 WCh in Egypt was off to a flying start on Wednesday with four out of six matches finishing with three or under goals of difference which says a lot about the quality we've seen out there on the court on day 8. Two of our SEHA national teams also made their first main round appearances out there with one failing to deliver a good enough performance and one securing an important draw so without further ado – let's get started with our daily recap!
Matchday was, in MR Group III, opened with a duel between Switzerland and Iceland. In the end 20:18 win for Switzerland which was once again offensively led by their best player Andre Schmid who finished the match with six goals. Later on France managed to come out on top against Algeria in a match which was far more interesting than we expected. In the end however, win is all that matters for 'les Experts' who were once again led by Telekom Veszprem's Kentin Mahe who finished the match with four goals. Finally, Norway managed to grab an important win against Portugal. It was however far from easy for Sander Sagosen and his teammates to reach a win against highly-motivated Portuguese players with Norwegian goalkeeper Bergerud saving a last-second attempt which would level two teams. In the end 28:29.
In the opening match of the day in group IV Slovenians managed to reach a dominant win over Macedonia (31:21). Former SEHA players Dragan Gajic (7) and Borut Mackovsek (5) led them in this one while on the other side Kiril Lazarov netted five for Macedonia. In the next round, Macedonians will in two days look to redeem themselves against Russia which was today defeated against tournament hosts Egypt. Omar Yahia netted two in his team's 23:28 win over first-placed team from group H. In the last match of the day Belarus managed to grab a big point against Sweden. In the end it was 26:26 although Belarusians could have easily grabbed both points since they were four goals ahead after the first half. However, despite of the fact Vailupau and Yurynok scored six each for them, they failed to keep their lead until the final whistle. Hampus Wanne netted seven for Sweden. In two days, Belarus will look for new points against Egypt.
Tomorrow we'll once again see two of our SEHA national teams out there with Hungary taking on Brazil in Cairo (18.00 CET) after a huge confidence-boosting win over Germany in the final round of the group stage. Croatia will on the other hand look for two new points versus Bahrain (18.00 CET).
SCORES & GOALS
DAY 8 (20.1.)
MR Group III
Switzerland – Iceland 20:18
France – Algeria 29:26 (Mahe 4)
Portugal – Norway 28:29 (Tonnesen 1)
Standings after MR Rd1: France (6), Norway (4), Portugal (4), Switzerland (2), Iceland (2), Algeria (0)
First two will advance to quarter-finals
MR Group IV
MACEDONIA – Slovenia 21:31 (Taleski 3)
Russia – Egypt 23:28 (Shishkarev 1, Yahia 2)
Sweden – BELARUS 26:26 (Yurynok 6, Vailupau 6)
Standings after MR Rd1: Sweden (5), Egypt (4), Slovenia (4), Russia (3), BELARUS (2), MACEDONIA (0)
First two will advance to quarter-finals
President's Cup
Chile – South Korea 44:33
Austria – Morocco 36:22
TOMORROW IN EGYPT
DAY 9 (21.1.)
MR Group I
Uruguay – Poland (15.30 CET)
HUNGARY – Brazil (18.00 CET)
Spain – Germany (20.30 CET)
MR Group II
Japan – Argentina (15.30 CET)
CROATIA – Bahrain (18.00 CET)
Denmark – Qatar (20.30 CET)
President's Cup
Angola – DR Congo (18.00 CET)