Can SEHA teams make a bang in EHF competitions?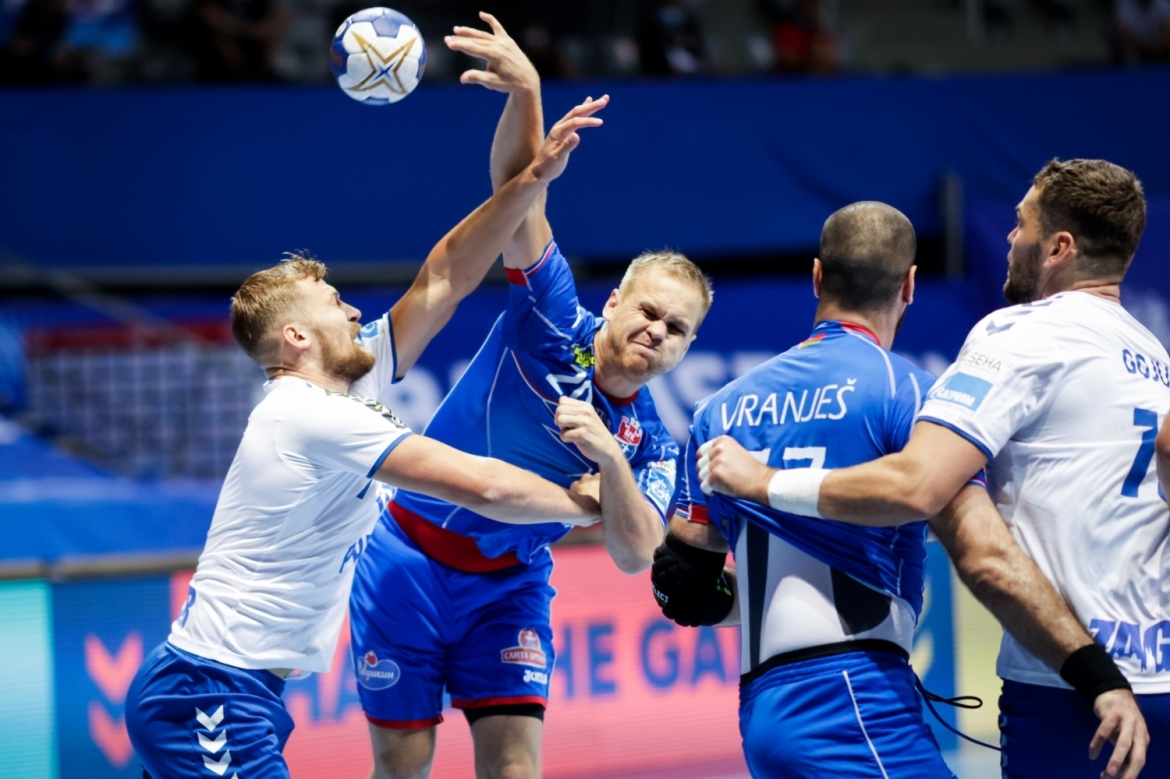 All ten SEHA – Gazprom League teams from last season are a part of 2021/2022 EHF competitions. Half of them will be playing for the prestigious EHF Champions League trophy, while the other half will be searching for their breakthrough moment in European League and Cup.
EHF Champions League Men consists of two groups with eight teams. Group A will see three SEHA League rosters battle for the play-offs (Meshkov Brest, PPD Zagreb, Vardar 1961). Their opposition includes last years' finalists Aalborg Handbold, but also Elverum Handball, Montpellier HB, Pick Szeged and THW Kiel, who want to prove they are Europe's finest clubs. According to EHF power rankings PPD Zagreb are sitting at the tenth position, which seems like a major upgrade from last season (when they were last, losing all 14 matches of group phase). Meshkov will be looking to build on their success from a couple months back, when they missed the EHF FINAL4 at Cologne only by losing to the Barca 'All-Star team' (29:33 at home and 40:28 away). Veselin Vujovic knows that Vardar have no pressure this year, since the entire team changed and their tactics still haven't been brought to excellence. But as time passes, we expect things to start clicking both on defense and offense. With that being said, let's wait and see who is mature enough to handle the best European teams. All three SEHA – Gazprom League teams begin their journey on Wednesday (15th September) and this is the schedule for Round 1:
Elverum Handball – Vardar 1961 (18:45 CET)
Meshkov Brest – THW Kiel (18:45 CET)
PPD Zagreb – Aalborg Handbold (20:45 CET)
At the same time Motor Zaporozhye and Telekom Veszprem won't have a much easier job in Group B. Barca, C.S. Dinamo Bucuresti, FC Porto, Lomza Vive Kelce, Paris Saint-Germain Handball and SG Flensburg-Handewitt will stand in the way of SEHA back-to-back champions and 2020/2021 3rd place winners. Veszprem appointed Momir Ilic after David Davis departure, which already showed some positive results. Hungarians played four SEHA matches in Ilics' era and won all four of them, which is a great indicator of what can be expected from a team who are still on hold when it comes to Champions League trophies. On the other hand, Motor are entering the competition from the shadows, which is always a good thing for tough defensive sides like theirs. Ukrainian champions had a wondrous 2020/2021 season on the backs of Barys Pukhouski and Aidenas Malasinskas, so they want to continue pushing in the same direction. Their first matchups will be played on Thursday (16th September):
Motor Zaporozhye – FC Porto (18:45 CET)
Telekom Veszprem – Paris Saint-Germain Handball (18:45 CET)
Even though there are five SEHA squads in the EHF Champions League, EHF European League and EHF European Cup won't be lacking teams from the best regional handball league. While Tatran Presov and Eurofarm Pelister have already qualified, Nexe are still searching for their place under the sun. After two easy wins versus Grupa Azoty Unia Tarnów (23:28 away and 32:28 at home), there is only one obstacle standing in their way – Bjerringbro-Silkeborg. The Danes are a fast-paced team who play modern handball similar to other Scandinavian teams and they aren't the easiest opponent for a team to face. Therefore, Nasice-based club will have two tough tests (on 21st and 28th September) to pass if they want a place amongst 24 contestants.
Bjerringbro-Silkeborg – Nexe (21 September, 18:45 CET)
European competitions haven't been easy on two SEHA teams from Serbia. Vojvodina were already knocked out of EHF European League in qualification round 1. Kadetten Schaffhausen, who were their opposition, got the better of Novi Sad squad in their second match and went through to qualification round 2. Gregor Ocvirk and Jovica Nikolic had no problems with the Swiss defense in first 60 minutes of a two-legged encounter, scoring 6 and 4 goals, respectively. That resulted with a 26:20 Vojvodina win, but it obviously wasn't enough, because Kadetten put on a brilliant display at home and won by 11 (34:23). Serbian champions won't have any European obligations this season, which will leave them a lot of time to focus on SEHA – Gazprom League and their domestic matches.
Metaloplastika are still in the game, for now. First leg was played on the road, in Sweden, where they were handed a big loss against Alingsas (29:23). Besides Vojislav Brajovic and Savo Mester, who scored 6 each, Metaloplastika couldn't get past Anton Havgall (13/25 saves). Mathias Pedersen also did his job on offense (7 goals), which definitely cost Sabac-based team the win. They still haven't played in Sabac, which leaves some space for catching up with the unsatisfying result. If they somehow manage to go through, Donbass will be their rival in Qualifying Round 2.
Metaloplastika – Alingsas HK (18 September, 19:00 CET)
Be sure to enjoy these brilliant matches while waiting for the start of SEHA – Gazprom League!