Eight nations and three clubs represented in the All-star Team
04.09.2022.

•

SEHA - Gazprom League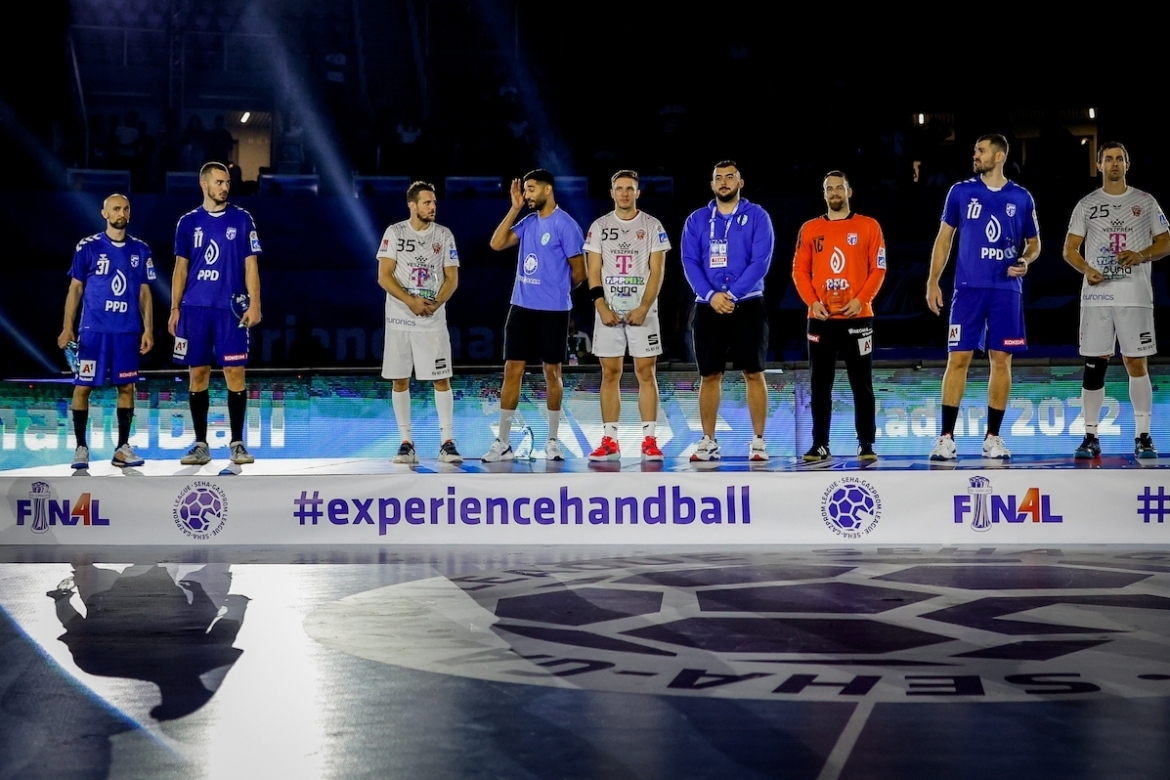 Rasmus Lauge awarded MVP of the SEHA Final 4 2022 in Zadar as the fifth Veszprem player in history.

History continues: In now eleven SEHA Final 4 tournaments eleven different players were awarded MVP: On Sunday, Rasmus Lauge received the trophy as Most Valuable Player of this edition – as the fifth Veszprem player in history after Chema Rodriguez, Momir Ilic, Rodrigo Corrales and Petar Nenadic. Lauge scored two decisive goals for Veszprem in the thrilling final against PPD Zagreb (32:30).

Journalists from all over Europe had voted for the All-star Team of the event – and the variety of nations had never been bigger: Eight countries are represented by those nine players, only Croatia twice – besides, players from Denmark, Slovenia, Belarus, Russia, North Macedonia, Tunisia and France are part of the All-star Team. In terms of clubs, Telekom Veszprem, PPD Zagreb and Eurofarm Pelister are listed in this selection.

Here is the All-star Team of the SEHA Final 4 2022 in Zadar:

Left wing – Timur Dibirov (PPD Zagreb)
A new club, a new environment, and 38 years on his shoulders simply mean nothing to the Russian Timur Dibirov. His style is impeccable and his goal-scoring abilities are incredible. Timur scored six in the semi-final clash against Nexe adding four more in the grand final versus Telekom Veszprem.
Right wing – Mikita Vailupau (Telekom Veszprem)
Mikita Vailupau also went through an environment change this summer transferring from Meshkov Brest to Telekom Veszprem but from what we could see in these last few days in Zadar, he already managed to find a way to blend with the team: precise from the wing and perfect in counter-attacks. Eight goals versus Eurofarm Pelister in the semi-final, four more against PPD Zagreb on Sunday. Coach Ilic's style fits him perfectly and we can expect Vailupau to make another step forward this season.
Line player – Zarko Peshevski (Eurofarm Pelister)
Zarko Peshevski is leaving Zadar with nine goals in his bag as one of the best options for coach Lars Walther on the attacking side of the court. In the bronze-medal match against Nexe he worked incredibly with Oussama Hosni helping Eurofarm Pelister secure a bronze medal in their first-ever SEHA Final 4 tournament appearance.
Left back – Zvonimir Srna (PPD Zagreb)
Zvonimir Srna carried PPD Zagreb both against Nexe as well as Telekom Veszprem. When Rasmus Lauge calls you "unstoppable" at the press conference after the final match – that basically says it all. Six goals in the final, numerous assists, and a heroic defensive display. Perfect!
Right back – Oussama Hosni (Eurofarm Pelister)
Oussama Hosni arrived in Bitola from French Istres this summer and his impact is already well-visible. Six goals in the semi-final and six in the bronze-medal game for a player who is also capable of making his teammates look better out there and that's not something you see as often.
Centre back – Kentin Mahe (Telekom Veszprem)
Kentin Mahe delivered two great performances in Zadar, one of Telekom Veszprem's key players along with Rasmus Lauge. Coach Ilic has the idea of playing quick-paced handball and Mahe is one of his main aces. One of the players who can seal the deal in an encounter on his own is pretty special.
Goalkeeper - Aljaz Panjtar (PPD Zagreb)
In that incredible first half of the match against Telekom Veszprem Aljaz Panjtar delivered a splendid performance perfectly complimenting Zagreb's defense. Ten saves in the first 30 minutes of the game helped Zagreb open the gap to six goals completely surprising Momir Ilic and his guys. Arriving from Slovenia, Panjtar looks like a big reinforcement for PPD Zagreb for the upcoming season.
Defensive player – Jakov Gojun (PPD Zagreb)
When it comes to defensive assignments, there aren't many players we would take ahead of Jakov Gojun. PPD Zagreb's defence was working incredibly, especially in the first half of the final with Gojun, Musa, and Srna leading the charge. Having him close must mean so much for PPD Zagreb's younger players.
MVP – Rasmus Lauge (Telekom Veszprem)
When you are six goals behind at the half, not many believe you can come back no matter who is standing on the other side of the court. In the final in Zadar however, Rasmus Lauge definitely believed in himself as well as his teammates leading them towards a huge, heroic win in the end. It was a team effort as he said but scoring the last two goals and deciding the big final takes a lot of everything to pull off and Rasmus has it all.

Photo credit: kolektiffimages