Statements after the semi-final Veszprem vs Brest
07.04.2017.

•

SEHA GAZPROM LEAGUE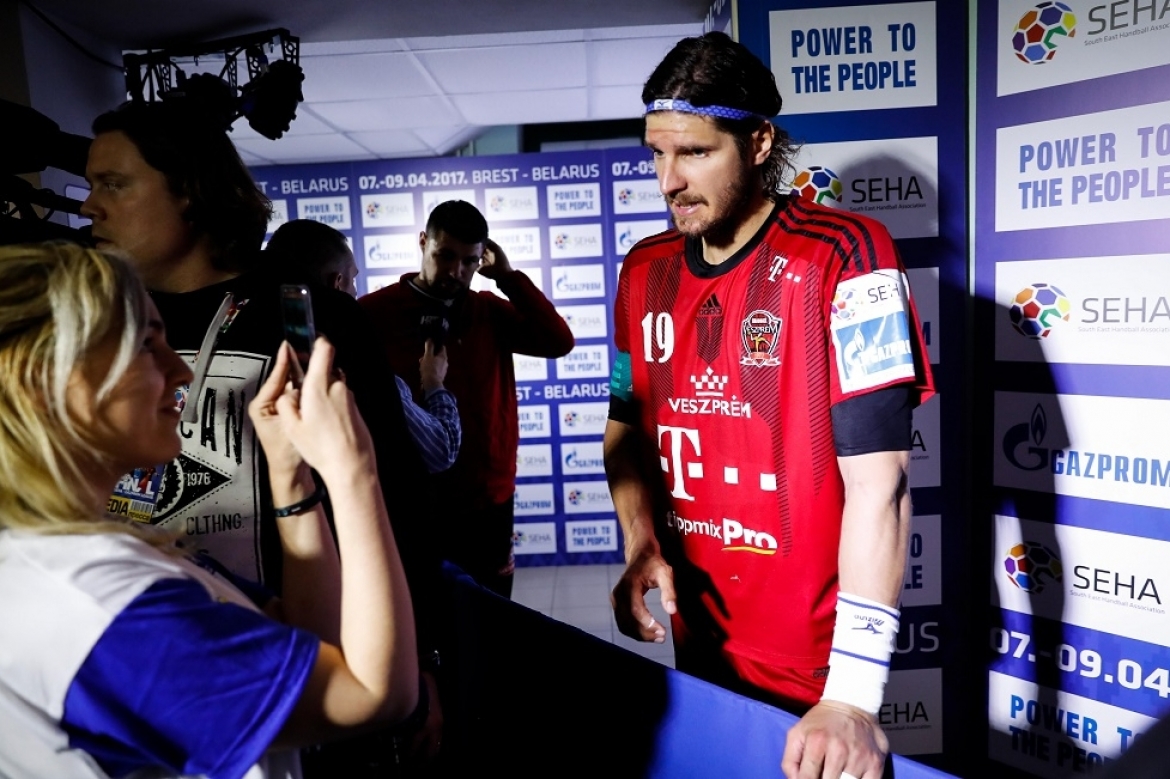 After a true thriller, Veszprem made it again to the final of the SEHA - Gazprom League, again after a penalties, like in 2016. Both coaches say that their team deserved to win, and all players praise the atmosphere in the Viktoria sports hall in Brest.
Here are the post-match comments after the semi-final Veszprem vs Brest:
Javier Sabate, coach Telekom Veszprem:
It is a pleasure to be part of this fantastic Final 4 and it was a pleasure to face Meshkov in this great atmosphere. Brest are a great, great team, they were a high-level opponent. It was so difficult to beat them last year in the semi-final, this year it was the same - and we even have the same final like last year. We deserved the victory, we played good against a very good team, which nearly had eliminated Flensburg in the Champions League. We had problems with Iman Jamali, who plays an amazing season in Brest. He improved a lot.
We are playing better and better and we are playing clever after we had problems at the start of the season. Now the teams is on the level everybody had expected. The team is fresh and motivated, ready to play the final against Vardar. This Final4 is the strongest ever, only with top teams. There is not any easy match, so we expect another tough final, but we try to be ready for everything.
Gasper Marguc, player Telekom Veszprem:
It was a great game, and it was tough for us. We played good, we fought hard, they had the crowd on their side. In the end, it ended in penalties like last year. We were a little bit better, I am happy that we play the third final in a row, and we hope to win it.
Laszlo Nagy, team captain Telekom Veszprem:
It was a tough match. We were down in the second half, but managed to come back and even grab the lead which we were not able to keep until the end. A penalty shootout is always a roulette, in which there are no favorites. Once again, we've managed to come out on top against them in a semi and now we have to get ready for Vardar. It was an incredible match.
Sergii Bebeshko, coach Meshkov Brest:
It was a wonderful game and one of the best crowds ever in this arena. We deserved to win, but unfortunately, we lost in penalties. We have improved our game this season, and we will keep on progressing now.
Iman Jamali, player Meshkov Brest:
I really wanted to win this mtch, I was highly motivated and this is a tough loss for me personally and for the whole team. I have to highlight our amazing supporters, for whom we were eager to win the title for but it won't happen this season. We've given our best but it was not enough.
I am sad and it hurts because of the final result. We did our best in defence and attack, but we played against one of the best teams in Europe with great players. This is sports, we could have had more luck to win game in the last attack. Now we focus on Zagreb to take at least a medal. It was an amazing support and great to play in this atmosphere.
Rade Mijatovic, Meshkov Brest goalkeeper:
We were really fighting all the way from the beginning until the end but it was not enough. Again penalties were deciding the encounter and putting Veszprem through. This is, in my opinion, only a matter of routine or experience - they have plenty of it.
Ivan Pesic, Meshkov Brest goalkeeper:
Our defence has once again proved to be our weak point, especially as the match was coming to a close. When you allow opponents to score easy goals in that period, it quite much affects the team's moral and it is not easy to compensate it in attack. It was a tough loss, but we have what we have. We will face Zagreb in the bronze-medal match and there is not much to say about that match as we have already played them many times this season - we know them, they know us so it will be interesting to see how that goes down.