Best Saves of Round 2
Author: SGL, Published: 07.09.2017.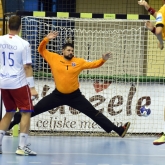 How did they keep that out? We've picked out the best 5 saves of Round 2. This Round brought some interesting results, but also a lot of highlights. You now have a chance to cast your votes and decide which goalkeeper had the best save of the round.
Klemen Ferlin, HC Gorenje Velenje

Matevz Skok, HC PPD Zagreb
Todor Jandric, HC Vojvodina
Ivan Pesic, HC Meshkov Brest
Dusan Petrovic, HC Dinamo