Best Goals of Round 2
Author: SGL, Published: 07.09.2017.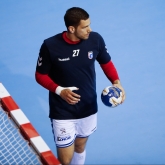 Some cracking goals from mid-week action in the SEHA- Gazprom League. As usual, it was quite hard to decide which 5 goals were the best in this round, but here they are. Now it's time for you to decide which one was the best in Round 2.
Marin Jelinic, HC Nexe
Stipe Mandalinic, HC PPD Zagreb
Janja Vojvodic, HC Vardar
Petar Djordjic, HC Meshkov Brest
Filip Kuzmanovski, HC Metalurg