PPD Zagreb sign Zarko Markovic
Author: SGL, Published: 11.09.2017.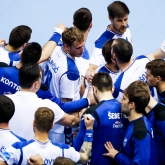 Croatian champions PPD Zagreb have shortly after David Miklavcic' injury, which is projected to keep him off the court for at least 6 months, managed to find a right-back solution signing Montenegrin-born Qatari handball player Zarko Markovic on half-season long deal. Markovic arrived to Zagreb from Qatari El Jaish and will with his experience surely help Zagreb boost their chances in both SEHA - Gazprom League and Champions League. Experienced back from Cetinje plays for Qatari national handball team with which he has WCh silver back from 2015.