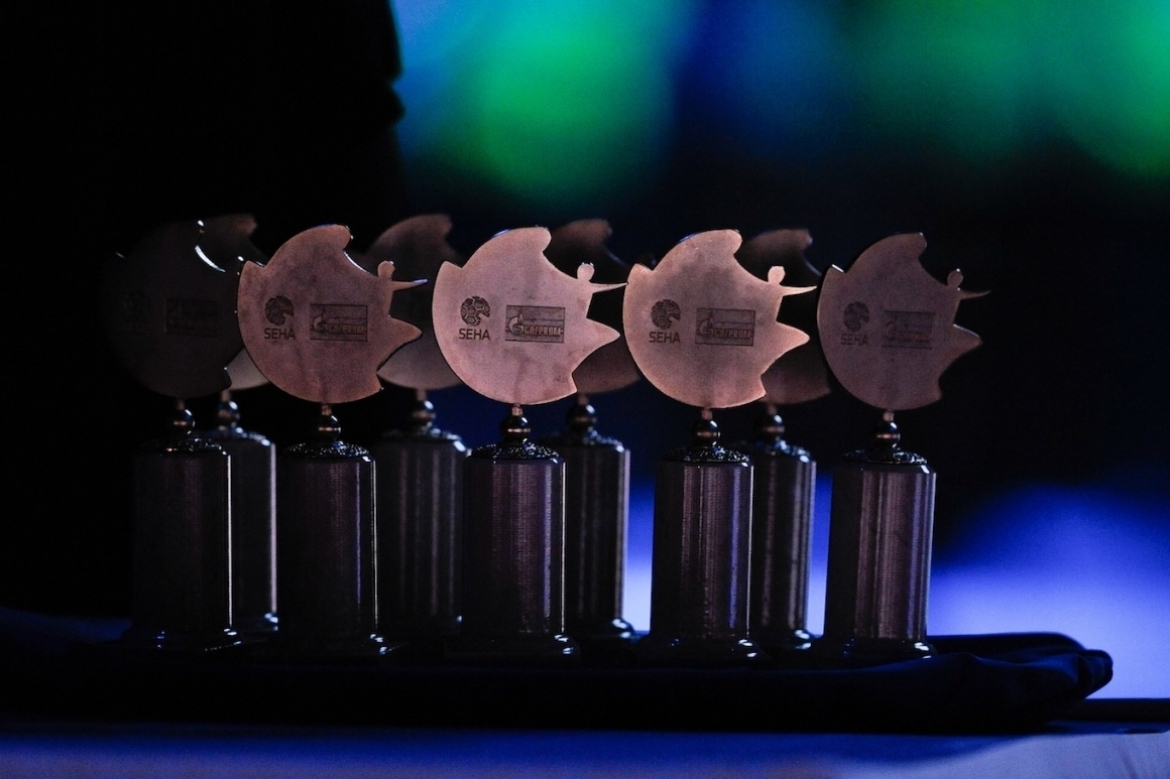 Some fantastic matches are behind us already. The season could not have started any better for some teams. That especially goes for Vardar and Nexe who remain undefeated after 4 rounds. The end of every month gives us a chance to reflect on what has been happening in the League. Start of the 8th SEHA season was marked by some faces we are used to seeing, but also a couple of new ones. It is time to meet the first 'Best 7' of the season!
Goalkeeper: Dejan Milosavljev (Vardar)
It is very unusual to see a goalkeeper fit in with a new team so well, so quickly. Dejan Milosavljev made the most of the opportunity at Vardar. He was incredibly reliable, leading the team to 4 opening wins after 4 rounds. Milosavljev was simply brilliant in goal for Vardar, recording double digit saves in all four matches. Along with that, he had a 35% success rate. He was especially terrific against Tatran Presov, saving two 7m shots as one of his 14 saves. Also, he made a last second save to rescue 3 points for Vardar.
Lelft wing: Vedran Delic (Izvidjac)
The left winger looked like he spent years playing in the SEHA – Gazprom League. Delic was very comfortable in his scoring role for Izvidjac. He climbed to the very top of the scoring list after the match against Metalurg. With 24 goals in four matches, Delic had some very admirable moments in Izvidjac's shirt. He looks like he has new tricks up his sleeve with every new match. Too bad Izvidjac remain winless heading into October.
Left back: Halil Jaganjac (Metalurg)
With the departure of Filip Kuzmanovski, Halil Jaganjac was a natural fit as the new leader of Metalurg. Even though the team from Skopje is still without a win, there aren't many words to say against the young left back. The top scorer of the previous SEHA – Gazprom League season continued in the same rhythm this year, too. 21 goals after four matches gives him a similar goal average as last season. Apart from 21 goals, Jaganjac also recorded 11 assists.
Centre back: Tomi Vozab (Nexe)
It looks like a return to Nasice this summer was a brilliant move, both for Vozab and Nexe. The centre back has been unstoppable so far and is Nexe's leading scorer. Vozab scored 8 against PPD Zagreb in a historic win, and recently had his season high with 10 goals versus Zeleznicar. With a total of 23 goals from 28 attempts, Vozab is enjoying some his best SEHA career moments. It's not a coincidence that it fits quite well with Nexe's best ever start in the SEHA – Gazprom League.
Right back: Dainis Kristopans (Vardar)
The big Latvian right back has entered SEHA – Gazprom League's history books at the start of the season. Kristopans became the top all-time goalscorer. He replaced Radoslav Antl on the top of the list. In his second season with Vardar, Kristopans scored at least four goals in every match so far. He has simply been a key piece to Vardar's offense. Also, he's been very important in defensive aspect of the game, with his unique combination of size and skill. Kristopans might be Vardar's key player this season.
Pivot: Rogerio Moraes Ferreira (Vardar)
Only a few people expected to see Moraes to bee Vardar's top scorer after four rounds. With Stoilov on the sidelines and Kalarash still fitting in the new system, Moraes did very well to use the opportunity as the leading pivot. The Brazilian pivot has improved a lot this season and will be a big weapon for Vardar. Moraes scored 18 goals on only 20 attempts, averaging 4.5 goals a match. He is the most efficient player on the line, so far.
Right wing: Maxim Baranau (Meshkov Brest)
Baranau started the season in incredible fashion for Meshkov Brest. He scored 11 goals versus Izvidjac in Ljubuski and overall did well this season for the Belarusians. He has a wide plethora of ways to score. Whether it's fast breaks, wing shots or 7m, Baranau can show it all. 23 goals on 27 attempts is an amazing return for a right wing. Away matches have been particularly impressive for Baranau. 11/11 against Izvidjac and 8/10 against Zeleznicar. Baranau might be a big joker for Meshkov Brest.
Coach: Hrvoje Horvat (Nexe)
There was little doubt for this award. Hrvoje Horvat led Nexe to four wins to start the season, which is easily the best start for the club from Nasice. The young Croatian coach built a team with many quality players to rely on. This resulted in some amazing performances for Nexe in August and September. A maximum of 12 points for Nexe after 4 rounds sounds terrific, so Nexe might be in contention for the Final 4 tournament. A lot of credit goes to Hrvoje Horvat, as the club won 12 points the entire last season. 2018 keeps getting better for Nexe and Horvat.