7M | David Mandic: 'My goal is to lead by example, give everything I've got and more'
01.12.2021.

•

SEHA - Gazprom League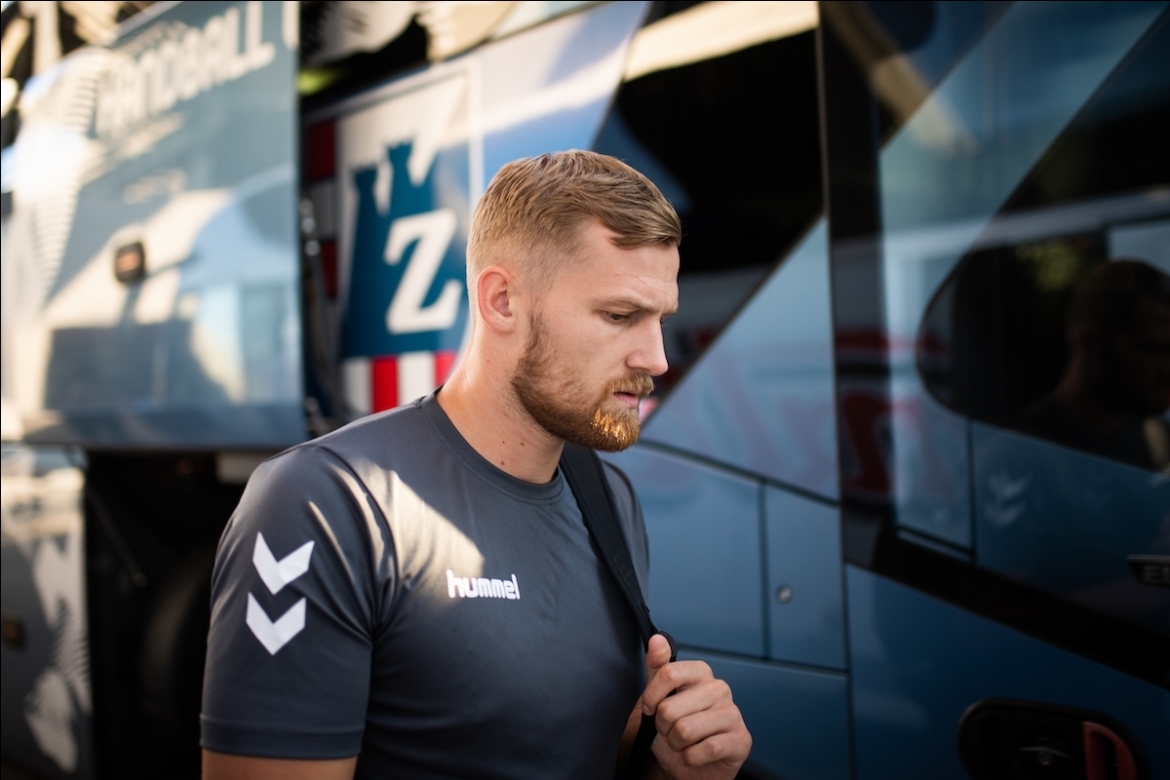 Our newest SEHA – Gazprom League 7M interview guest is the captain of PPD Zagreb and first-choice left winger of the Croatian national team. A natural born leader who is asserting dominance on both sides of the court. It is time to meet David Mandic.

Usually, we hear stories of players trying different sports and activities as kids before eventually deciding for handball. That was, however, not the case with David.
In Ljubuski, where I'm from, handball was always the number one choice for kids growing up. Izvidjac has some great coaches and I remember all of my friends training handball back in the day. What is also good is that the club's main focus is development of younger players who are given a chance to play at the highest possible level in Bosnia and Herzegovina quite early, at only 16, 17 years of age. Looking back now, we've really had an amazing generation of players some four or five years ago with Hrstic, Rodin, Sarac and myself. I feel like we were given a chance and we used it in the best possible way.

How much did SEHA – Gazprom League help you guys develop faster and better at the time?
It surely helped a lot. Being able to square off against some of the best teams in Europe at the moment helps you determine where you are at the moment and what are the aspects of the game you have to focus on and improve in. Here I have to mention coach Zdenko Grbavac who not only helped me, but made me the player I am today. I've always liked working out alone sometimes, mainly improving my physique, preparing for whatever the game has in stock for me, but trainings with him really shaped me into the player I am today.

After Izvidjac it was time for David Mandic to make a first big step in his career signing with Croatian champions PPD Zagreb.
Zagreb is an amazing club which is also offering a lot, especially to younger players. I've grown to be one of the best in my position here, become a member of the Croatian national team and for that I will forever be thankful. They've given me the opportunity and, just like in Izvidjac, I've managed to use it in the best possible way.

David has, in PPD Zagreb's jersey, gone from the youngest in the roster to captaining the team full of experienced internationals like Ivan Cupic, Zeljko Musa, Jakov Gojun etc.
In four years' time I've managed to become the captain of this PPD Zagreb team and it definitely feels good. This season some experienced players have arrived here in Zagreb and it's funny sometimes – me being their captain. It is what it is and I'm trying to use every opportunity to learn something from them and their experience. My goal as a captain is to lead by example, give everything I've got and more even when things are not going well.

At only 20 years of age David received his first national team call-up. Now, four years later, he will be one of the key players of the Croatian national team on EHF EURO which will be played in January in Hungary and Slovakia.
I still remember my first time with the national team. I was really nervous and had so much respect for all these players that it wasn't easy for me to relax and realize that I am a part of that team now. Luckily, apart from them being incredible players, they are all really great guys as well and they helped me relax. In January it definitely won't be easy. We have a tough group and we have to take it day by day, opponent by opponent. What I can say right now is that we'll definitely give our best, do everything we can and see where it brings us.

There aren't many players capable of playing so good and hard on both sides of the court. Did you look up to anyone growing up?
Not really, I can't say I have any idols. It's just that I've always wanted to impact the game on both sides of the court. Sometimes it's not easy, running back, asserting physical dominance, playing hard on the ball but that's what gets me going. It can be quite exhausting sometimes, especially when you're playing on the highest possible level, which is probably the reason why not many guys are doing that. Right now I can only remember watching former Swedish national team player Jonas Källman. I guess he has a similar style.

With the EHF Champions League win over Meshkov a week ago, the feeling is like PPD Zagreb is finally on the rise.
We definitely are, I feel like we're capable of way more than the current results are showing. We have a good energy and we've finally managed to reach that much-desired Champions League win. We simply had to go through that rebuilding period and now we're ready to grow again.

Next summer David Mandic will make a new big step in his career joining German MT Melsungen.
I've had a few offers but I decided for Melsungen because I feel like Bundesliga is the league for me. I'm excited because I feel like I'm ready for that step.

With all the trainings and everything do you even have any free time?
Not a lot but right now I'm mainly using it to learn German. I'm also trying to spend as much time as possible with my wife. Apart from that I hang out with my friends, teammates, play video games, just usual stuff.