7m | Barys Pukhouski: 'I feel I can teach younger generations a lot and that would be a good challenge for me!'
11.01.2022.

•

SEHA - Gazprom League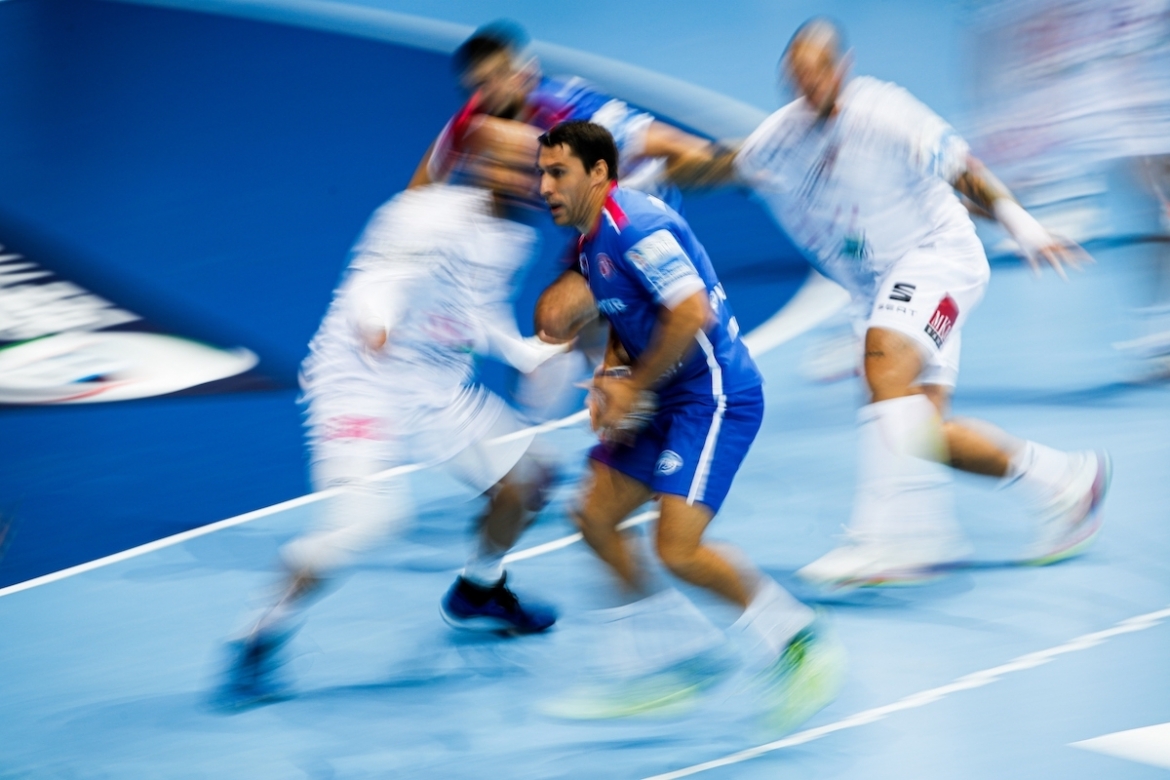 Guest of our premier 7m interview of 2022 is one of the physically most dominant offensive players of the League. The engine of Motor Zaporozhye – Barys Pukhouski. Only a few days before the opening day of 2022 EHF EURO we've talked to him about a whole lot of different things including his handball beginnings, the way he feels about the game, but also plans for the future. Without further ado – let's get into it.

It all started in Malarita, Belarus. Was handball your first and only choice?
Not really. I'd say it is a classic story. I tried a lot of different sports and activities growing up. Where I'm from, handball was quite popular at the moment and I can say some of my friends talked me into trying it telling me that it would be a good idea to play a team sport. I still remember my first coach and how calm he was. I really liked that.

Do you remember your first matches?
Of course I do. It was really a great feeling. I remember having this winning mentality that I have now as well from the very beginning. I guess my family played a big part in it and the fact they were all involved in sports. My mom used to play handball at earlier age, my father was into athletics and my older brother was also playing handball. It was basically never a question whether I will be a sportsman or not with all of them around me.

At only 15 years of age Barys moved from Malarita to the capital, Minsk.
It didn't really take a lot for me to get used to living in the big city. I really liked this whole new life that was upon me. There were some minor problems which is expected considering how young I was at the moment, but I was always aware that it is handball that brought me where I am and that I have to keep on giving it everything I have back on a daily basis.

Were you always so physically dominant?
Actually, I owe my family one for that. Good genes I'd say. I mean I go to the gym and everything but it's not like I'm trying to build as much muscle as possible. Sometimes I even want to be lighter because handball is not only about physical strength – it is also about the tempo and you have to be able to play your best handball throughout the entire course of the game. And that is far from easy.

Is there a story behind your number '10'? You're wearing it both in Motor and Belarus national team now.
Nothing really. I like the number and all that, but for me that was never really that important. Hard work and dedication to the game were always my top priority.

Are there any players you look up to? Maybe some you are trying to model your game after?
I've never idolized other handball players. I'd like to be like Michael Jordan or Michael Jackson maybe though. Jokes aside, we have to be realistic and say that if you're looking for the best shooter in handball – that is without doubt Mikkel Hansen. On the other hand, when we're talking about the best player overall, the one who is dominating both sides of the court, that's Nikola Karabatic. I feel like watching the two of them is like watching Messi and Ronaldo in football. That's how great they are.

What are your expectations of the European championship?
For us it's hard to talk about medals obviously. What is important for me is that I see each and every member of the team giving his absolute best out there no matter the result, minute on the clock or anything else. It is important to show the real fighting spirit. The result is not as important for us but I believe, in case we manage to deliver our best every time we're out there, that there will be some good results for us.

How do you like SEHA – Gazprom League?
The SEHA - Gazprom League is very important for us and it would be even better if we played more matches in it. Our national league is not as good and SEHA matches are really helping us prepare for what's waiting for us against the best of the best. It is also very important for younger players and their development. It means a lot when you are as a young player getting a chance to play against some of the best teams in Europe. I feel like that can really help them.

In 10 years Barys will be...
I have no idea. I like the idea of playing handball for 10 more years haha. Jokes aside, sometimes I lose motive after so many matches and everything. But then after two months I am full of motive and desire to show what I'm capable of. I feel like I can't go long without handball which is why maybe I'll try myself as a coach one day. It all depends on the opportunity and if my family will agree with that idea but yeah. I feel like I can teach younger generations a lot and I also believe that would be a good challenge for me one day.

Where are you when you're not on the handball court or in the gym?
I'm with my family. They mean the world to me and I'm trying to spend as much time as possible with them. They are really amazing helping me forget about this handball life of mine and simply enjoy free time with them. We like to travel, hang out, basically anything as long as we are together.