7m | Vladimir Cupara: "My handball path was quite different!"
15.06.2022.

•

SEHA - Gazprom League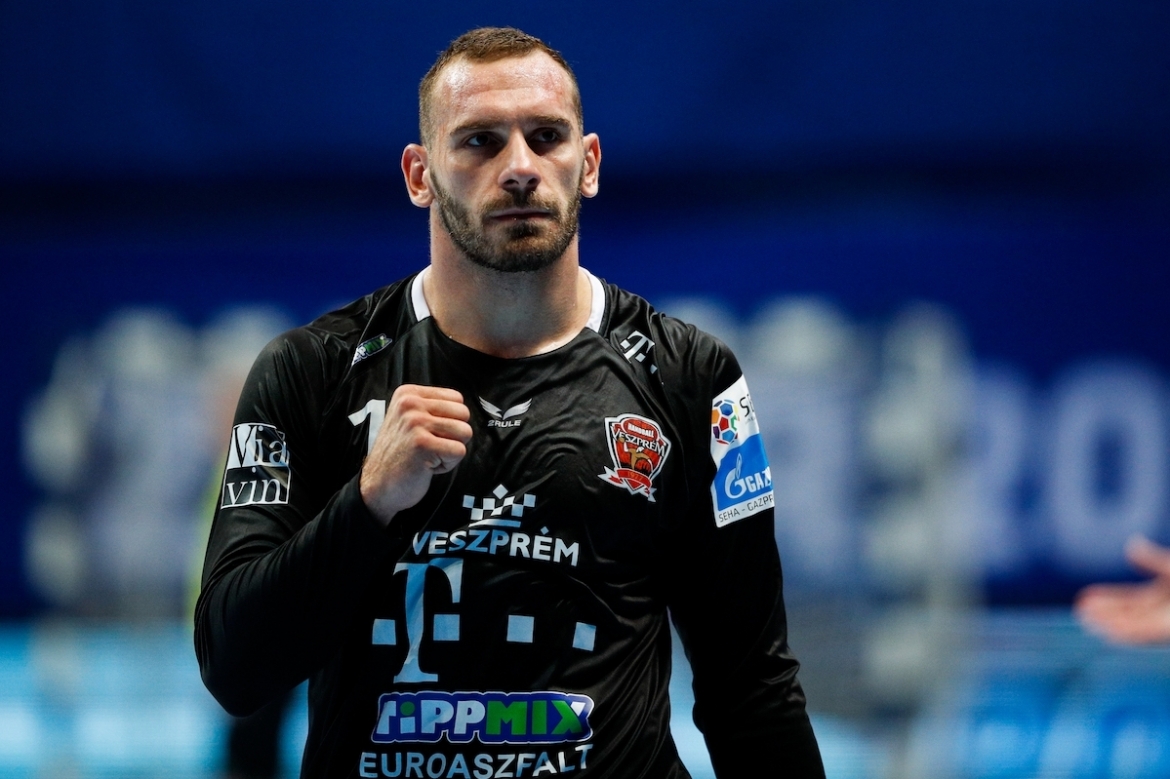 Grand final of the EHF Champions League season is scheduled for next weekend in Lanxess Arena Cologne with four of the best European teams fighting for one prestigious trophy. Hungarian vice-champions started the season in the best possible way – winning SEHA Gazprom League final versus Zagreb in Zadar, Croatia securing their newly-promoted coach Momir Ilic his first coaching trophy. Their final goal of the season is to secure much-desired EHF CL trophy, the one their fans have been waiting on for years now.

One of the guys who always shines when it matters the most for Veszprem is Vladimir Cupara. The 28-year-old Serbian international goalkeeper arrived in Hungary back in 2019 being an important asset for his team ever since. Unfortunately for reigning SEHA champions, a few days ago they suffered a loss against Szeged (29:30) with Miklos Rosta scoring the buzzer-beater which brought Hungarian Championship title to Szeged.

How do you feel when you think about that loss?
It is obviously extremely tough to lose the Championship in the last second in front of more than 5.500 fans. We definitely didn't expect something like that as we were really growing as a team lately but that's sport – one possession decided everything. Focus is now shifting towards EHF Final4 in Cologne. There you can't allow yourself to have a bad day.

Could you describe the evening and the day after the loss against Szeged?
In the changing room we didn't talk to much but were despite of everything very supportive – that's that special something this team has. We were already then well-aware of our mistakes. I went out and asked my girlfriend, future wife to drive my car back home so that I can take a walk. It was a 45-minute walk but I needed some time alone. I never did it before honestly. During the walk I met around 300-400 fans who were supporting me, clapping and screaming. That's Veszprem. That helped me re-focus, find strength for another important week. Morning after I went to Budapest. It was an Orthodox holiday so I went to church. That means a lot to me, helps me find balance. During the afternoon I had lunch with my friends and that also helped me recharge. Despite of it all, even now – four days later, my blood pressure still rises when I think of that loss. It's normal.

What was Momir Ilic' reaction to the loss? What did the coaching staff do to prepare the team for another big and important week?
Momir doesn't speak to much after the matches. Usually he just says 'we'll talk about it on Monday' but this time he was emotional stressing out how proud he is of us. We could really see and feel his support. That's what's important for every player. Video analysis will point out our mistakes but other things matter as well. First training session of the week was all about football and basketball. No handball, just relaxation, good energy, trying to re-establish the vibe we've had throughout the entire season, all the way until this last Friday.

Telekom Veszprem and Cologne. Seems like a never-ending story.
It's been like that for the last 25 years but I hope things will change this time around. Four incredible teams will be there all of which can go all the way. We'll play against Kielce – strong team with a fantastic coach and an amazing roster. Talant Dujshebaev really has a hard time choosing 16 players for the game. That's my former team and I know some guys over there. Their biggest strength is Alex Dujshebaev – the best attacking player in the world. He simply knows it all – every dribble, every shot, every move. Wollf is also incredible between posts but Kornecki is also very good. Dylan Nahi is a special winger. It will be really hard to play against them.

Who are the most important people in your career?
Family and friends have a special place that's for sure. Our strength coach Marija Lojanica is a very important person in my life and career. She has a realy big influence on me – not only in terms of my body or as a fitness coach but as a person I can talk to about everything, not only handball. She is a friend of mine. Of course our coaching staff in Veszprem starting from Momir Ilic, Arpad Sterbik, Peter Gulyas, video guy Csaba. Coaching staff in the national team is also very helpful and means a lot to me. I worked with a sport psychologist Luka Skrnjajic for more than a year but decided to end it right before the season and try to keep that balance on my own.

Your handball story is far from being a typical one. You discovered handball at the age of 16. Before that you used to train rowing.
Yeah, I was already in high school. My first club was Vozdovac with legendary coach Sasa Kandic. He did a lot for handball and me personally. He said 'hey, we should keep that kid out of the street' and I can't thank him enough for everything he's done. He gave me a chance to become an athlete, learn about sport, get working habits, grow up in a healthy environment. Even when I went from Vozdovac to Crvena zvezda he was still there to help me with every-day things, taking me to the doctors etc. He is the most important person in my sport life. My connection with Vozdovac will always remain very important for me. After Crvena zvezda I went to Ademar Leon when I had the chance to play the EHF CL. My handball path was quite specific, maybe faster than expected but I guess we all get what we deserve in the end.