7m | Luka Lovre Klarica: "I am focused on reaching a result with PPD Zagreb, but my dream is winning a medal with Croatia"
05.01.2023.

•

SEHA - Gazprom League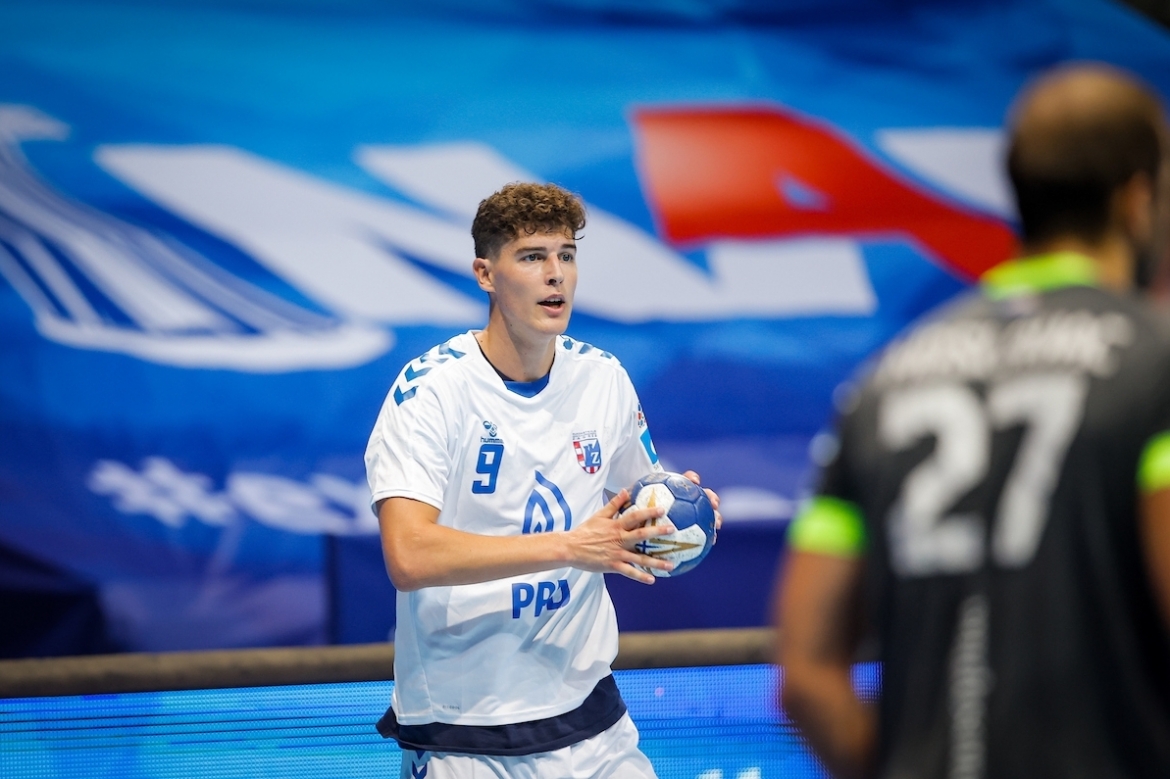 SEHA - Gazprom League is known for helping younger players develop by providing them with an opportunity to play against some of the best both teams and individuals in Europe at the moment. PPD Zagreb's Luka Lovre Klarica is a perfect example of that going from a young player with obvious potential through rising star status all the way to being one of the key players for Croatian 'Lions'. Because of all that, we have decided to open the new season of 7 meter interviews with Klarica, catching up with him while he is in Porec, Croatia with the Croatian national team, preparing for the upcoming IHF WCh in Sweden and Poland.

Less than a year from your national team debut, you are now in Porec with the Croatian national team preparing for the WCh. How satisfied are you with how things are developing? How is the atmosphere?

Of course, I am delighted to be here. There are three of us in the right-back position at the moment and we're all looking quite well. The chemistry between us is really good and I have to say I'm completely ready for whatever coach Hrvoje Horvat decides in the end. I am prepared to do whatever it takes to help the team succeed. Being here and sharing the locker room with all these great players really feels unreal, especially because we're all together all the time, hanging out despite of the fact some guys are 10-15 years older than me.

Growing up in Zadar, one of the capitals of basketball in Croatia, you decided to go with handball. How did that happen?

Basketball was never really an option for me although my grandpa used to play professionally and he was really good. Somehow, for me, it was football in the beginning and then handball. I was a left back in football and who knows, maybe if I decided to stick with that I would have traveled to Qatar with the Croatian national team back in December. Jokes aside, I feel like I really made a good decision.

Zadar to Zagreb to Gorica and then to Zagreb back again. Can you take us through your handball path?

Well yeah, playing for Zadar I received an offer from PPD Zagreb and decided to accept it of course. In the beginning, I was playing for the B-team but then ended up on loan in Gorica. I feel like that period helped my development process a lot as I was playing in the Croatian top division for almost 60 minutes every match. After that I was recalled to Zagreb, started playing more and more, and here I am now. Every step was different but I'd also say every step was important in making me the player I am today.

PPD Zagreb decided to bring in some experienced players in the last few seasons and you also have a new coach now. How much does it mean not only for you but for all the younger players to share both the locker room and the court with players like Gojun, Musa, Cupic, and Dibirov?

We can definitely feel their presence in every training session. They are like a confidence booster for us honestly, it means a lot. Their presence and advice help you relax and believe in what you have to offer, and that's when you start delivering your best outings. Coach Goluza also did a great job in the last month or so changing our mentality and preparing us in a way that we all believe we can defeat absolutely anyone. The defence has always been our main strength but now we are focusing a lot more on the offensive transition which allows us to score much more of those easy goals and basically makes it easier for ourselves.

With those experienced players spending so much time helping you guys, do you see a future coach in any of them?

To be honest, I feel like they all have the potential to do it. Cupic will definitely be a coach one day and others, we'll see but they definitely have what it takes.

You started as a young player in SEHA - Gazprom League becoming a rising star and eventually taking over as one of the key players for your team. What are your thoughts on SEHA League?

SEHA is a perfect league for younger players to develop, especially for those that still can't compete with the teams in the EHF Champions League. Provides you with just the right opportunity to see how good you really are when compared to some of the best individuals in Europe from Veszprem or Vardar. I feel like we were looking really good in the last two seasons coming inches away from celebrating in the finals against favored Telekom Veszprem for two years in a row. We have a good team now and of course, we're dreaming of going all the way once again ending the 10-year-long drought. But, as always, we have to take it step by step.

In the last few seasons, Zadar is becoming for SEHA - Gazprom League what Cologne is for EHF Champions League. Do you mind that?

Absolutely not, I hope it stays that way. Two years ago the organization was already perfect but this last year, when we had fans supporting us – that was really cool. Playing in front of my family and friends in my city always feels incredible and, as I said, I wouldn't mind in case that becomes a tradition.

Do you have any players that you look up to? What are your both long-term and short-term goals?

When it comes to idols I have to highlight Domagoj Duvnjak. I really admire him for everything he does both on and off the court. He is a true leader and a captain of our national team. When it comes to players in my position – I feel like Dika Mem from Barca is the best. His skill set is ridiculous and I love to watch him play. About my goals – I am focused on reaching a good result with PPD Zagreb, proving to everyone how much we're really worth. After that – who knows of course but I also have to say I dream of winning a medal with the national team.

What do you do in your free time and what do you think you would do if you were not a handball player?

I no longer play video games. I used to play them quite a lot but now I like to spend my time hanging out with friends or even analyzing some handball matches, watching TV shows like Stranger Things for example. When I'm in Zadar during the summer, I like to do training in the morning, then hit the beach, have some coffee with my friends, go to the beach once again in the afternoon, do another training and go to the city center in the evening. Regular stuff. If I was not a professional player I would definitely focus on graduating from Faculty of Kinesiology and becoming a coach. For now, I like the idea of coaching kids much more than coaching senior teams but who knows what will happen in the future.

What else can we say but wish Luka Lovre Klarica all the best in what appears will be a shining career that's ahead of him!