Borac as a tough opponent for MKB MVM Veszprem
05.09.2014.

•

SEHA GAZPROM LEAGUE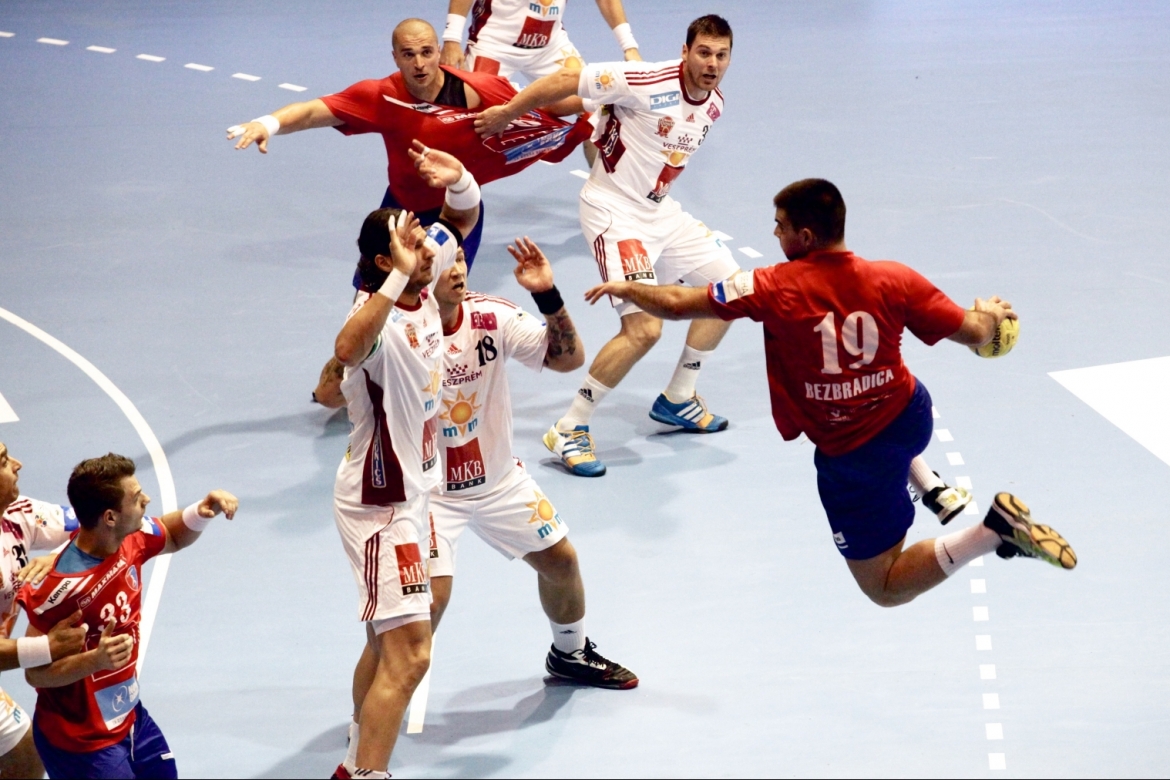 Champions of Bosnia and Herzegovina Borac have in the third round of SEHA GSS League hosted Hungarian champions MKB MVM Veszprem . In front of more that 4.000 supporters in Borik hall Borac were defeated with 29:33 (12:15). It was Veszprem's third win from 3 matches in SEHA GSS League.
Home team have opened the match well. During the whole first half they did not allow their opponents to enlarge the goal gap and decide the match. Hungarian champions were slowly building their lead until +3 on half-time (12:15). Mikić has scored 4, Trivundža added 3 for Borac and on the other side Renato Sulić was Veszprem's best scorer with 4 goals.
Second half - same story. Veszprem was struggling to find a way through to Borac' goal. Man who has made the difference was Veszprem's man between the posts and Hungarian NT goalkeeper Roland Mikler. His 16 saves compared too only 8 Abadžić and Haseljić have on the other side managed to collect combined were not enough for Borac to surprise Veszprem even more. In the end Borac were left on -4 (29:33). Đukić and Mikić have finished the game with 7 goals for the home team, Trivundža added 4. Sulić was on the other side Veszprem's best scorer with 7 goals, one more than their this summer's reinforcement Gašper Marguč who scored 6. Man of the match was probably Roland Mikler with 16 saves.
Carlos Ortega, MKB MVM Veszprem's coach:
- We did not have much time to prepare for the match. I knew Borac plays a strong defense and they have showed it today. We will on the other hand have to play much better if we want to reach all our goals speaking of both SEHA GSS League and EHF's CL. Even after first few rounds I can tell that oponnents in SEHA GSS League are much stronger than in Hungarian League and that is exaxtly why we have decided to join it. It will help us keep form for the upcoming strong matches, especially in CL.
Igor Rađenović, Borac' coach:
- It was hard to play against Veszprem today. They have much stronger rotation which was the main cause for our 'slowing down' in the second part of the second half. But I'm happy we've managed to get out of this and play the rest of the match on a quality level.
Mirsad Terzić, MKB MVM Veszprem's player:
- Borac was really good today. I knew that, I knew how hard it is to play here and they have showed it today. Speaking of us, I know we can play much better and I believe will show it soon.
Milan Đukić, Borac' player:
- We have showed that we are a team with a strong fighting spirit. We've managed to come back from a little 'black hole' we've had and finish the match with -4 against such a strong opponent. I'm really proud of my team after a match like this.
Borac will in the next round host Macedonian Vardar and MKB MVM Vezsprem will play their first SEHA GSS home match against Metalurg.