WCh France 2017, Day 2: Macedonia edge Tunisia, Slovenia crush Angola as SEHA players combine for 29
12.01.2017.

•

SEHA GAZPROM LEAGUE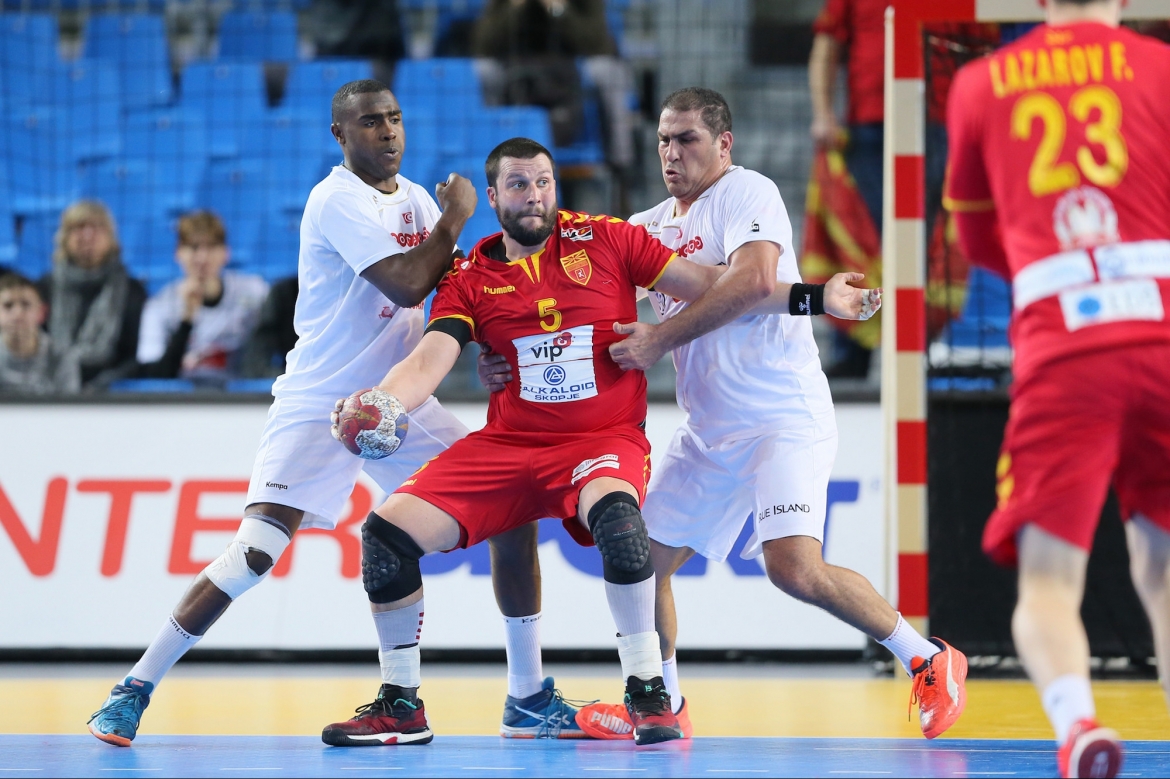 It was expected for Slovenia to easily deal with Angola in their championship opener but even their biggest fans did not believe Vujovic' boys will be left only 3 goals shy of +20 (42:25) against third-best African team at the moment. Everything was simply functioning great in their game today. Their main goal is to have a rock-strong defense which would eventually provide them with loads of chances to score easy counter-attack goals and that run-and-gun transition was way too fast for Angolans today. Coach Vujovic had 15 players on disposal for the match with Celje PL's Miha Zarabec ending up sidelined for the clash with a minor injury which he is however expected to overcome until round 2 duel against Iceland. Mackovsek and Marguc were team's best scorers in the end scoring 8 goals each. Janc added 6, Cingesar 4, Kodrin 2 and Blagotinsek 1 which means SEHA Gazprom players were clearly running the offence scoring 29 of 45 (64%) Slovenian goals today. By that Skok had 10 saves in just the first half. In the next round Slovenia will in just two days face Iceland.
In the second match of the day in Metz Arena Macedonians have managed to beat Tunisia (34:30) after being down by 1 with the half-time whistle. It was a tough match. After trailing by 1 after first 30 Macedonia was even down by 4 (20:24) with a little less than 20 minutes left on the clock. However, their 4:0 series at 28:28 with a little more than 5 minutes left to play has proved to be decisive for the victory. Former both Metalurg and Vardar player Dejan Manaskov netted 3 in that period to seal the deal finishing the match with 7 goals as well as Vardar's current captain Stojance Stoilov. Kiril Lazarov, one of the best scorers game of handball has ever seen was once again running Macedonian offence scoring amazing 12 goals. Metalurg's young sensation Filip Taleski was also given a chance to show what he can on the big stage scoring 2 from as much attempts. In two days Lino Cervar and his boys will step on the court once again, this time to play Angola.
By these two results it is interesting to note that SEHA Gazprom trio Dibirov - Atman - Shishkarev was leading Russia towards a big 39:29 victory over Japan scoring 6 goals each and being their team's best attacking options in a match in which Russians were not able to fully enlarge the gap until late into the encounter with the final result making it look way easier than it actually was.
Iceland, who were forced to drop Veszprem's Palmarsson from their roster due to an injury, did not manage to stun Spaniards losing with 27:21 despite of deliver a surprisingly good first-half performance. Vardar's Joan Canellas was one of the most important players in Spain's fast transition leading the scorers with 4 as well as Balaguer. Alex Dujshebaev went scoreless on three shots.
In the last match of the day, seriously weakened Poland was a mere step away from surprising favored Norway. In the end 22:20 in favor of Norwegians despite of huge 17 saves from Polish goalie Malcher.
Matchday 2 (12.1.2017)
Group A: Russia - Japan 39:29 (18:15) (Atman, Dibirov, Shishkarev 6/Shida 7), Poland - Norway 20:22 (10:12) (Daszek 7/Hansen 6)
Group B: Slovenia - Angola 42:25 (22:13) (Marguc, Mackovsek 9/Lopes 7), Macedonia - Tunisia 34:30 (13:14) (Lazarov 12/Boughanmi 9), Spain - Iceland 27:21 (10:12) (Canellas, Balaguer 4/Sigurdsson 5)
Rouen, city in northern France and host city of WCh preliminary round group C, will on Friday host remaining three SEHA national teams and their premier appearances on 25th World Championship. Belarus will step on the court first trying to grab a win over Chile to start the tournament in a perfect manner. Hungary, led by Veszprem coach Xavi Sabate, will have a bit tougher job playing against reigning European champions Germany and Croatia will look for an opening win in a face-off against Saudi Arabia.
Tomorrow on World Championship in France:
Group A: Japan - France (17.45 CET)
Group C: Belarus - Chile (14.00 CET), Germany - Hungary (17.45 CET), Croatia - Saudi Arabia (20.45 CET)
Group D: Qatar - Egypt (14.00 CET), Sweden - Bahrain (17.45 CET), Denmark - Argentina (20.45 CET)
Full WCh France 2017 overview
Results Group A
Round 1; France - Brazil 31:16 (17:7) (Porte 6/Toledo 5), Russia - Japan 39:29 (18:15) (Atman, Dibirov, Shishkarev 6/Shida 7), Poland - Norway 20:22 (10:12) (Daszek 7/Hansen 6)
Standings Group A; France 2 (+15), Russia 2 (+10), Norway 2 (+2), Poland 0 (-2), Japan 0 (-10), Brazil 0 (-15)
Results Group B
Round 1; Slovenia - Angola 42:25 (22:13) (Marguc, Mackovsek 9/Lopes 7), Macedonia - Tunisia 34:30 (13:14) (Lazarov 12/Boughanmi 9), Spain - Iceland 27:21 (10:12) (Canellas, Balaguer 4/Sigurdsson 5)
Standings Group B; Slovenia 2 (+17), Spain 2 (+6), Macedonia 2 (+4), Tunisia 0 (-4), Iceland 0 (-6), Angola 0 (-17)
Photo: France Handball 2017