7m | Nenad Kosteski: ''I believe this team has what it takes to make a step forward this season!''
14.04.2023.

•

SEHA - Gazprom League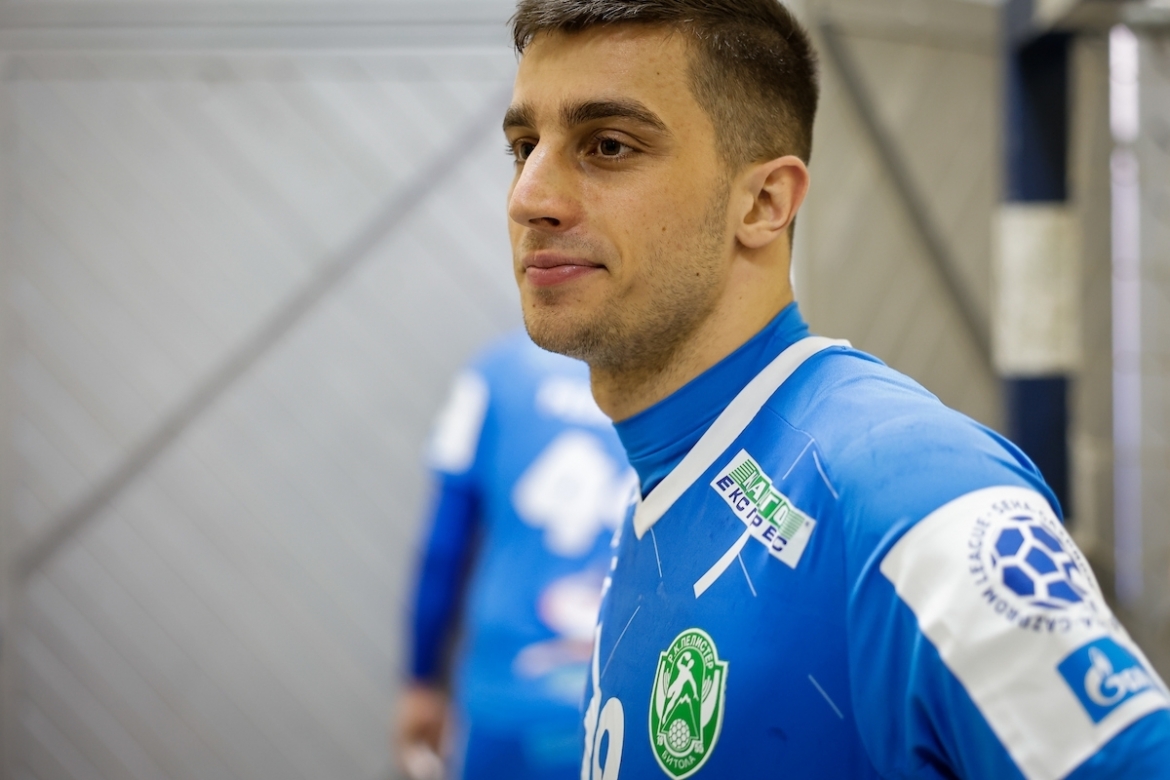 At the age of 22, he already has more experience than some of his older colleagues, but his time is definitely yet to come. Nenad Kosteski, also known as 'Air Struga', is the leader of the new generation of Macedonian players, currently playing for the vice-champions Eurofarm Pelister.
All this is no surprise considering he has got handball in his blood coming from Struga – a city that has given many Macedonian national team players. His father Vojne played handball, and so did his brother Nikola. Nikola and Nenad used to play together in Metalurg, as well as the national team, with Nikola currently playing in Czech Republic. His cousin Marija Jovanovska is, on the other hand, already playing for both junior and senior national team of North Macedonia.
Kosteski shined in this season's SEHA – Gazprom League quarter-final duel against Tatran Presov scoring incredible 21 goals in two matches.
I think this year might be the right one. I am trying to make the most of every given opportunity, improve on a daily basis. I am eager to make a step forward, but I'm also trying to stay patient and do everything in order to fulfill my goal. I feel like Bitola suits me really well, I've been here for three years now, and I still have two years on my contract. I can feel the progress I'm making here. Our main goal is to finally win the title in Macedonia – this was also one of the main reasons why I decided to return to Macedonia. Eurofarm is an ambitious club, and I'm really happy about that.
How difficult is it to play in a city like Bitola, that breathes and lives for the game of handball, where everyone knows everything about the game, and where the fans are in the stands even during the training sessions?
It's not easy to play here. Fans are really passionate, hungry for success, and the title they've been waiting on for 18 years. It's an amazing feeling to play here, but on the other hand, you can also feel the pressure as the ambitions are high, and fans want you to win game in – game out. I feel like the fans love me. When you go for a walk around here, you can feel the respect people have. We are all really close, people are friendly. There is a big difference when you're winning and when you're losing which is what motivates you even more to improve and celebrate in as many matches as possible.
Let's go back in time a bit, four years to be exact. At the time you were playing in Struga, when the call came from PPD Zagreb. Was that a dream come true for you? What was the first thing that went through your head?
I was very young at the time, only 18. When the offer arrived, honestly, I was a bit confused. However, once I realized I've obviously reached a certain level, I didn't think much and immediately accepted the challenge. I was happy. I consider it to be a good move because it is a really big thing to sign with a team like PPD Zagreb at such a young age. As said, I feel like it was a good decision as I had a chance to see how things are working in a top club, and I am happy to be a part of such a club once again here in Bitola.
Last year you guys finished third at the SEHA – Gazprom League final tournament. Now that you are again among four of the best teams, do you feel like you have what it takes to make an additional step forward?
Last year we've already made a great thing by securing a spot in the tournament, eventually reaching historic success with that bronze medal game win over Nexe. Now we have a similar chance, and I hope we'll manage to make an additional step forward. I'd like to see us play in the final against either PPD Zagreb or Vardar 1961, I feel like that would surely be a great match. It is always great to play SEHA League matches – I remember watching my brother play with Metalurg at first, and then I got a chance to see what it's like back when I was still in PPD Zagreb. SEHA - Gazprom League is great when it comes to helping younger players develop and grow, as they are getting a chance to prove their worth against some really good teams.
What is it with your birthplace of Struga that's basically an 'incubator' for so many not only handball players but athletes in general?
I honestly have no idea what's with that. Maybe it is in our genes, maybe it has something to do with the climate, with our teachers, with the fact that we are all starting quite young. I have no idea, but I don't see it stopping any time soon. When it comes to me, I started training because of my father and brother who is my inspiration. I've always looked forward to playing with him – either in the club or in the Macedonian national team jersey.
Who is your sports idol?
I have two – my brother and Luc Abalo. I'm even wearing number 19 because of him.
The professional sport requires many sacrifices. How are you dealing with that challenge? What is it you like to do when you're not on the handball court.
It does require sacrifices, but it is also the only way to success. One doesn't go without the other. I feel like one of the reasons why I'm doing well is because I have my priorities set straight. I like to spend time with my friends and listen to good music, but other than that I am fully dedicated to handball.
Your nickname right now is 'Air Struga'. Do you remember having a nickname growing up?
Everyone has a nickname back home honestly. Mine was 'Batak' ('Drumstick') after my brother's nickname. It was passed from him to me.
Eurofarm Pelister is once again in the race for the Macedonian championship title. Are you guys ready to go to battle for it?
Honestly, we feel like everything depends on us. We are inches away from the third season in a row now and I hope this will finally be the season when we go all the way and make our fans happy. That's our main goal at the moment.
There are hundreds of matches still ahead of you, but from the ones that are behind you – can you highlight a match that you will remember for a long time?
I definitely still have a lot of matches ahead of me, but my first EHF Champions League match with PPD Zagreb against Barcelona will surely have a special place forever. First EHF Champions League match of my life, the first goal, and all that against a team like Barcelona. Amazing!