Trnavac explodes for 20 saves as Partizan secures a big and important win over Vardar 1961
28.02.2023.

•

SEHA - Gazprom League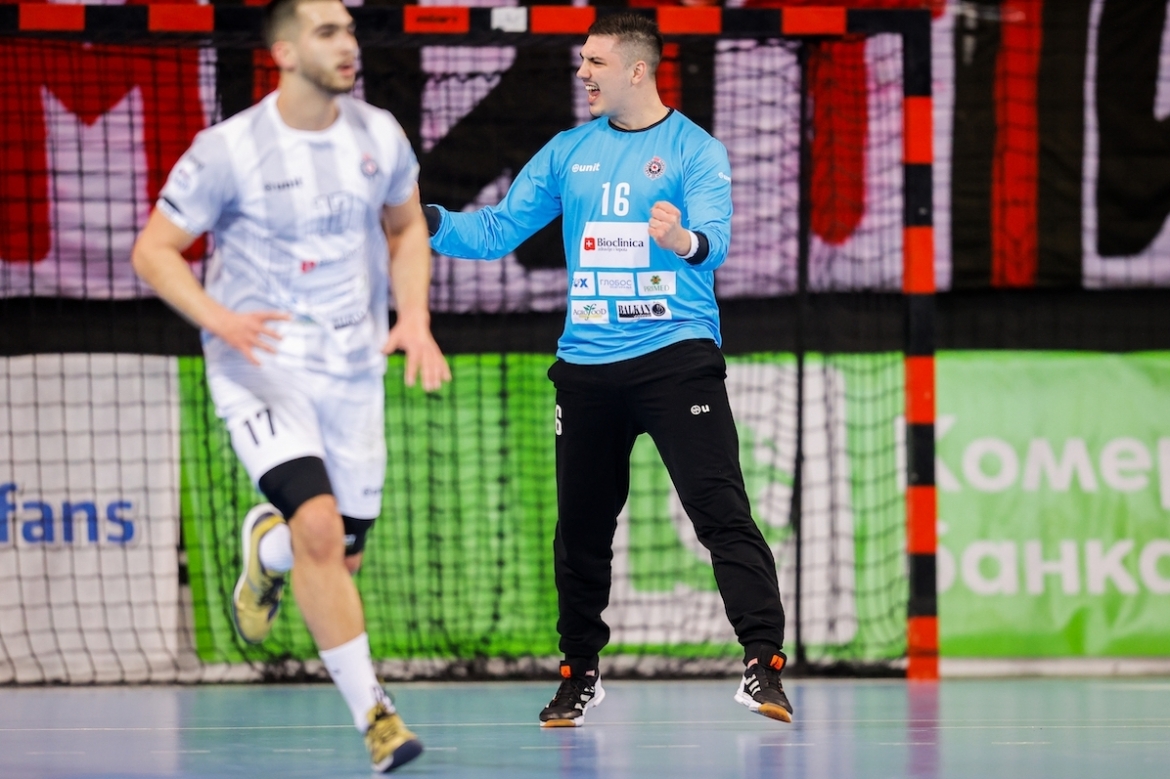 In the fourth-round match of the SEHA - Gazprom League regular season group A, Serbian Partizan welcomed Vardar 1961 on Tuesday evening in Belgrade. In an amazing atmosphere in Sports Center Vozdovac, Partizan managed to reach a big and important 28:22 win as Andrej Trnavac led them with 20 saves while Petric and Zecevic netted eight each.

The hosts opened the match better widening the gap in their favour early into the encounter. Stefan Petric was leading the offence for Partizan, along with Nikola Zecevic while Andrej Trnavac exploded for 10 first-half saves. Filip Taleski netted six for the guests who found themselves one goal down (15:14) at the end of the first half. Considering the advantage Vardar 1961 has in terms of the experience of playing such narrow matches in a great atmosphere on the road, it was obvious that this one is far from over.

Partizan has managed to keep the tempo high in the second half as well, slowly widening the gap in their favour after Vardar's initial push at the beginning of the second. Stefan Petric and Nikola Zecevic were shining for Partizan in attack while Andrej Trnavac displayed an incredible performance grabbing a total of 20 saves! Petric and Zecevic scored eight goals each while Uros Kojadinovic added four including the most important one which not only sealed the deal in this one at 28:22 but also gave Partizan an advantage in case they finish the regular part of the season with the same amount of points as the Macedonians as they have lost the first match in Skopje by five goals! Filip Taleski netted nine for Vardar, while Martin Tomovski added just as many saves.

With this, Vardar 1961 has become the first team to play all four SEHA Gazprom League regular season games. The "Red&Blacks" are currently sitting on top of group B with six points, while Tatran and Partizan have three each. It is important to note that Partizan, unlike Tatran, has a positive goal difference against Vardar 1961 which means the final two clashes of the group between Partizan and Tatran in both Belgrade and Presov will decide everything.
Stojan Petrushevski, Vardar 1961 assistant coach:
We've played an important match three days ago which is why some of our key players were not physically ready for this one, but that's no excuse. Congrats to Partizan on a well-deserved win here today. Stoilov, who obviously means a lot to us, got hurt and that was a big loss for us. Despite that, we know that we can play much better than that. Partizan wanted this win here today more than we did, the support they've had was amazing. We've had our chances, but their desire to win prevailed in the end.
Filip Taleski, Vardar 1961 player:
I would like to congratulate Partizan on a great match. We have to analyze both our approach and performance and realize that we won't be able to achieve the things that we'd like to achieve playing like this. We must be more aggressive on the defensive side of the court and minimize technical mistakes, especially against opponents that know how to take advantage of them.
Dario Krzelj, Partizan coach:
The fans led Vardar toward a win in Skopje, and here our fans led us. Whenever Partizan fans are here – we can beat anyone. We did everything we agreed on prior to the game. We've also had some health and injury issues but we've decided to give our best and managed to win this game in the end.
Ivan Micic, Partizan player:
Fans left me speechless. We all know what Vardar means, how big the club is which is why I have to congratulate my team. We're still alive in the SEHA - Gazprom League, and we'll surely give our everything against Tatran. I hope fans will once again be there for us.
Photo credit: kolektiffimages